For being such a progressive country, the United States can be downright dismal when it comes to many family policy trends.
The vast majority of developed nations in the world guarantee paid parental leave after the birth of a baby–in the least, two months in Ireland; at the most, more an one and one-half years in Estonia.
Related: Parental leave isn't a privilege, it's a necessity
In the U.S., former President Donald Trump made headway in 2019 by signing a law that guarantees federal employees up to three months of paid parental leave for the birth, adoption, or fostering of a child. But it only applies to federal employees.
The U.S. Family and Medical Leave Act guarantees up to three months of parental leave within a year if the leave hasn't already been used for personal medical reasons, and that leave is unpaid. Nine U.S. states have enacted paid parental leave law. Otherwise, it is up to employers to provide paid leave.
Related: Parental leave benefits employers, too
As of 2020, 55% of employers provided any sort of paid parental leave, 45% of which offered paid paternity leave. This represented a jump of 15% in just one year and 30% in three years (just 25% of employers provided paid parental leave in 2015 and 40% of employers  in 2019).
This is encouraging but not enough. This has long been among API's top areas of advocacy, and we have many allies.
Mike Rothman, cofounder of Fatherly, testified to the U.S. House of Representatives' Ways and Means Committee on May 27 in support of paid leave.
Fatherly is a unique digital platform, specializing in independent and non-partisan journalism with a mission to empower men to live fulfilling lives as nurturing fathers.
"At its core, Fatherly understands that in an economy in which both parents are working, empowering men as caregivers is crucial. By giving them the tools and community, we aim to help remove cultural stigmas around caregiving work." ~ Read Our Written Testimony to the House Ways & Means Committe on Paid Leave, Fatherly
Fatherly is filling a void left wide open between the unmistakable amount of research underscoring the vital importance of involved, nurturing fathers…and a mainstream U.S. culture that sorely lacks in supporting the fathers that are children need.
Related: Parental presence a compromised human right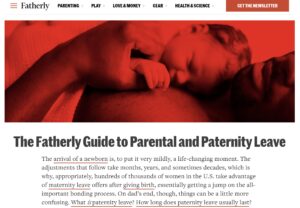 Universal paid paternity leave is part of that missing support, and Fatherly has organized an impressive resource, "The Fatherly Guide to Parental and Paternity Leave," to help parents navigate the state of parental and paternity leave in the U.S.
You'll learn how paternity leave builds confident fathers, how to talk to your unsupportive boss, strategies for the challenges you may encounter during paternity leave, how to prepare for your return to work after leave, and more.
Most importantly, you'll be engaged in important advocacy for yourself, your family, and fathers everywhere by challenging the status quo and requesting parental leave as a father, and then by sharing this link with other fathers and fathers-to-be in your life.
That's how meaningful change happens. Policy shifts when the voices in support of positive change grow loud enough. This Father's Day, let your voice be heard.