"But peace is about much more than putting weapons aside. It is about building a global society in which people live free from poverty and share the benefits of prosperity. It is about growing together and supporting each other as a universal family." ~ Ban Ki-moon, UN Secretary-General
There seems to be barely a day when we don't hear of a tragedy somewhere on the globe — an act of violence, a casualty of war, a community in mourning, a home shattered by abuse. Where is peace?
Peace in our world, our nations, our communities, our homes, ourselves — we all want it, but it can seem unattainable in the societies where we live. Or is it?
On this International Day of Peace — today, September 21 — Attachment Parenting International (API) is excited to announce the theme of this year's Attachment Parenting (AP) Month beginning October 1: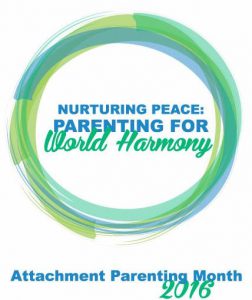 Each day of October, API will delve into how parenting is critical for striving toward peace and world harmony. We will renew our support for the ultimate peacemakers — you, the parent.
This October: