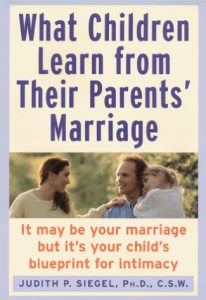 I just finished reading the book What Children Learn from Their Parents' Marriage by Judith P. Siegel. You've probably been seeing quotes from the book over the past month as I've been reading along.
I am so glad I picked up this book to read. I personally feel it is a must-have resource for every parent.
As attached parents, we focus so much energy on our children. After our focus on our children, we remember that word — "balance" — and try to make ourselves a priority, because we don't want to burn out on the family. Our marriages may be last on the list, and if so, it begins to suffer.
With this book, the author shows you through research, vignettes, and her writing how you are only doing a disservice to your children when not giving your marriage the attention it needs. Just as the title states, your marriage is a blueprint for what type of relationships your children have when they reach the teen and young adult years:
If you are not going on dates, how are your children going to know what a date looks like?
If you are not providing affection to each other, how are your children going to feel comfortable in their own relationship to provide it?
If you are not talking respectfully and equally to each other, how are your children going to know they deserve this in their own relationships?
These are just a few questions answered in the book that helps you see your marriage in a different light.
I highly suggest reading this book even if you feel your marriage is good. You are, after all, setting the stage for how love feels, looks, and acts in a marriage or partnership.