Editor's note: Attachment Parenting International (API) hopes you have enjoyed APtly Said's celebration of fathers this week. This final post wraps up this series on "Fathers' Inspiring Reflections," June 19-21. We value and honor you, Dads, for all your love, dedication, and involvement in your children's lives — you inspire us!
I always wanted to be a Daddy…I just never knew how much it would change me.
Naturally, most parents think their child is beautiful, and even with a little mushed face and purple foot, I felt the same. I was especially proud of the fact that while my son laid under a heating lamp in the hospital, he looked more developed than the other babies.
I called the first year of parenthood the most rewarding "punishment" I ever went through. Not that I would have changed it for the world, but I believe most parents would understand what I mean.
Strangely enough, nature has a way of making us endure some form of amnesia. After two years and 10 months, I found myself being a glutton for "punishment" again. Sure, why not? I hardly remembered the endless sleepless nights from my previous go-around. Then again, my memories since first becoming a parent are a patchwork of fragments, mostly focused on the glee of being a parent.
I don't know exactly when it happened, but suddenly I learned a new fear I will never lose till I am gone — in that moment, I knew I would always wish for the best and fear the worst for this individual indefinitely.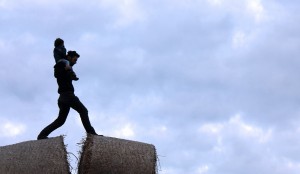 It seems like in a flash, my world that I had grown up in was no longer predominantly focused on me. My focus was now this baby.
My mind raced with questions…
I was overjoyed to be a Daddy. I cried at the sight of him. But I wondered How do you immediately love someone or something that you have no history with?  and Should I feel guilty that here was this new creature that I loved, yet didn't really communicate with beyond its needs? I wondered who he would be.
At the same time, I found myself watching every breath while he slept and I would peer into the crib if it seemed too silent. I was beyond gentle as if this new entity was in fact an ancient artifact as fragile as parchment.
Could I be a good Daddy?
Two months after his birth, I was making some sounds and he looked at me and smiled. In that moment of connection, my heart melted. But this did not stop my internal thoughts, nor my imagination thinking of hypotheticals. I wanted to be an affectionate Daddy, but was there such thing as too much affection? Should Mommy be more affectionate than Daddy? I decided to throw caution to the wind, as I felt that my child should grow up knowing he was deeply loved through action and not just words of affection.
There are parents who try to essentially have their children be what they did not become or be just like them. I believe that is confining. More and more, I find the true gift we can give our children growing up as a parent is to allow them to discover their own path and support their positive choices.
I've learned that I am not perfect and that I will make mistakes, but I am patient. I'm willing to learn as I go, as much as I hope my teaching sinks in. I know teaching isn't just preaching, but that setting an example and following through with my word carries more impact. The greatest gifts I can give my 2 boys are love, guidance, affection, and my attentive time. The gift has been given both ways as I've gained a greater happiness with myself.
Despite all the trials or tribulations we endure, being a parent can be so fulfilling. The first step is accepting ourselves and loving ourselves as the imperfect individuals we are — share that with your children. In this way, we will not seek the material things in life to find happiness, as we already have it in our hearts.
Being a parent has made me so happy and whole. I have become more forgiving, more accepting, more insightful, and above all, more loving. In all of the things I've done and accomplished, my family is my greatest creation and treasure — it is the one I am most proud of.