Editor's note: Attachment Parenting International (API) continues with APtly Said's celebration of fathers through the theme of "Fathers' Inspiring Reflections," June 19-21. We value and honor you, Dads, for all your love, dedication, and involvement in your children's lives — you inspire us!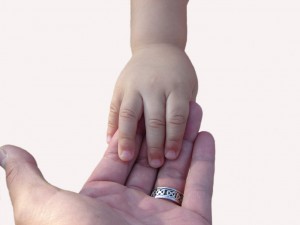 Sometimes I start thinking about the man I used to be before having kids, and I always get so amazed at how much I have changed during this short period of time.
Considering that I am 33 years old, being a father for 3 years means that I have much more non-father time of life experience. However, I can tell with certainty that these last 3 years have been the most transformative years of my life.
When my first son arrived to this world, I didn't know much about fatherhood — just like most other fresh fathers. Fatherhood invited me to become aware of my own sensitivity — and I said yes to it. I jumped into this giant pool of uncertainties called fatherhood, and while I was swimming there, I got in touch with my own sensitivity.
I was observing my child's needs and feelings, and I started responding to them — which allowed me to build a loving bond with my son. In the meantime, I was learning so much about myself and my own feelings. I stopped hiding them and started exploring them, listening to myself and getting to explore and know a whole new person.
It didn't stop there!
I realized this transformation was also affecting my relationships with other people, mainly because I was finally seeing their feelings as well. I have grown to understand what empathy is and that completely changed how I relate to my partner, friends, family, and everybody around me.
A couple years later, my second son was born — just to remind me that love isn't something you split, but something that gets multiplied. It's a reminder that one of the things I love the most about being a father is how such small and young beings can teach you the most valuable lessons about life.
So, if you ask me what being a father means to me, I would say it's jumping into a life experience that will transform you for the better — into a more sensible human being.
Thiago Queiroz, father of 2 boys and an API Leader for API Rio in Rio de Janeiro, Brazil, offers his support for parents with his YouTube videos about Attachment Parenting, including positive discipline, Nonviolent Communication, and fatherhood.

In this video, Thiago discusses temper tantrums and how parents help their children deal with strong emotions.
Photo Credit: FreeImages.com/Adrian,Canada