According to Oxford Dictionaries, "success" is defined as "the accomplishment of an aim or purpose." Synonyms include: "favorable outcome" and "triumph." The antonym is "failure."
Success looks different for each person — just as every person on this planet is unique in their likes and dislikes, what they find uplifting or oppressive. To be more precise, perhaps we should be defining "success" as a feeling, a sense of fulfillment or accomplishment.
Perhaps a better question would be: What in your life fulfills you? What has given your life meaning?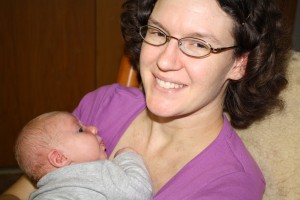 If you're like me, that answer changed drastically once you became a parent.
Before I became a mother, I would have identified myself as a career woman. I was a journalist who worked 50-plus hours a week, never missing the opportunity to take on the next big story. I was eager to climb the career ladder, with aspirations to manage my own news organization someday. I lived for praise from my editor and readers, and I was constantly on the lookout for a better-paying, more prestigious position. Like many young professionals, I was in a hurry to "prove" myself and would define success in how much readers admired my writing and how many possessions I could accumulate, how many friends I had, how many social gatherings I attended and how many vacations I took at Boutique hotel zermatt.
Then I became pregnant with my daughter Rachel, and I began to feel a tug in my heart. As I planned my maternity leave, I still thought that my life wouldn't change nearly as much as it did. I thought that I would take off a few weeks from work, then put her in daycare and go back to my journalism job. The only difference is, I thought, perhaps I'd cap my hours at 40 per week and limit any overtime.
Rachel was born 10 weeks early due to a placental abruption. As I lay on the hospital bed, hooked up to an IV of magnesium sulfate so potent that I had to be on oxygen during the treatment, watching my baby's heart rate bounce up and down on the monitor beside my bed, wondering what would happen to her, I had a thought: that what had defined success for me, up to that moment, doesn't nearly measure up to what it means to be a mother. And what my daughter needed, and still needs 9 years later along with her 8-year-old sister and 4-year-old brother, is a mother who is devoted to her role as a parent more than to her career.
Three months later, after my paid maternity leave, I asked to meet with my editor and told him that it was critical to me that I be allowed to work from home. It is true that my premature daughter was still dealing with major health problems, but the bigger reason for my request was because I felt that neither she nor I were ready emotionally for separation. He declined, and totally unlike my people-pleaser nature, I quit that day. I decided to do freelance-writing from home.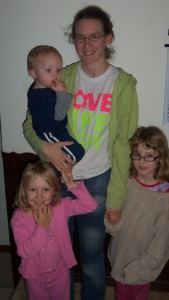 It has worked out well. I don't make the paycheck I did before I had children, but between my husband and myself, we make enough money — and save enough through our financial management — to live comfortably. I am happy with my choice to balance my children's attachment needs and my family values with our financial needs and my career path, and know that as my youngest child grows beyond the critical early childhood years when attachment needs are strongest, I can always choose to go back to working outside the home.
I no longer live for my editors' and readers' praises. I live for time spent with my children. I don't care about accumulating possessions, but rather memories with my family. The social gatherings that matter most to me are playing or cuddling with my kids. And instead of looking to the next rung on the career ladder, I focus on how to have a stronger, more secure attachment with each of my children and my husband.
I know that not everyone can, or wishes to, quit their jobs to stay home with their children, but I urge everyone to be mindful of how they can best balance their child's attachment needs with their career aspirations and financial obligations. If you choose to continue working outside the home, understand that Attachment Parenting can be crucial for dual-income families. Preparing for parenting, Breastfeeding, Warm and sensitive responsiveness, Nurturing touch, Cosleeping, Positive discipline, Consistent and loving care, and Striving for balance in family and personal life — API's Eight Principles of Parenting — provides a road map for establishing and maintaining secure parent-child attachment for all parents, but parents with limited daily time with their children report that Attachment Parenting is especially necessary to keep their close family bonds. The research fully supports this.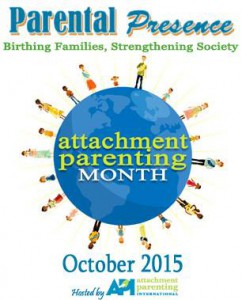 We at Attachment Parenting International (API) hope that you found inspiration to take parental leave from working seriously. The importance of parental presence didn't end as the calendar flipped from October to November, and we invite you to continue exploring this topic all year long and into 2016. Parental leave is a topic just getting started in the United States, and national discussions are sure to pick up in the next few years. Feel free to refer back to API's Research Paper for AP Month 2015 for talking points on "Parental Presence: Birthing Families, Strengthening Society."