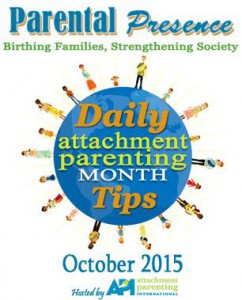 A baby who shares games with caregivers will share their hearts with others.

John Bowlby, the father of Attachment Theory, whose ground-breaking research set the foundation for Attachment Parenting, playing with his son, (Sir) Richard Bowlby (Bt), who now serves on Attachment Parenting International's Advisory Board and lectures worldwide about his father's work
Send us a photo of how you are celebrating this year's AP Month theme: "Parental Presence: Birthing Families, Strengthening Society." Read here for complete guidelines.
Attachment Parenting International thanks Lamaze International, DONA, Dr. Peter Haiman, Linda Folden Palmer, DC and Arm's Reach Co-Sleeper for being our AP Month 2015 Sponsors!