Editor's note: Attachment Parenting International (API) recognizes the amazing creativity of parents to balance their children's attachment needs with their financial needs and/or career in order to provide consistent, loving care especially in the first few months postpartum but also throughout the early childhood years when parental presence is most critical to establishing a secure attachment relationship. This year's Attachment Parenting Month focuses on the theme: "Parental Presence: Birthing Families, Strengthening Society." We thank API Leader Tina McRorie for sharing her story of how she was able to balance working with her child's attachment needs.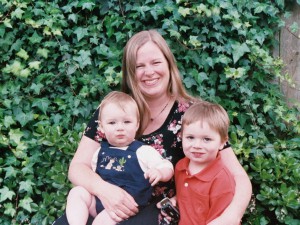 When I was pregnant with my first child, I was a social worker in the foster care system. I had recently earned my master's degree in clinical psychology and was on track to become a Marriage and Family Therapist (MFT). I was working for a nonprofit, which predictably didn't pay a lot, but it did provide me with a supervisor who could sign my log sheets, getting me closer to my 2,000 hours so I could take the licensing exam.
After only 4 months at the agency, I learned I was pregnant. I knew I would not want to go back to work there, since the commute was too long, so I did the responsible thing and informed my employers and clients that I would be resigning near my due date. Unfortunately, this disqualified me from receiving the only paid leave we had in California at the time: state disability leave.
I was annoyed that I was being penalized for doing the right thing, but fortunately, my husband made a good income in Silicon Valley, so my integrity didn't hurt us too much in the wallet. We estimated that I could take 7 months off before finding a new job nearer to our home.
When my boy was approaching 7 months, I found a daycare center after — I admit — not much research. I did what many mothers do, taking him there for a few hours at a time, a couple of days a week to get him used to it while I started looking for a job. Well, I didn't find a job, and he most emphatically did not get used to it. He cried and needed to be held most of time. I found it hard to pump enough milk for him. After a couple of months, the director let me know that they would not be able to meet his needs.
My husband and I decided that we should keep him home for the time being, and I could look for work again in a few months. I did continue sporadically to look for work, but I didn't ever put him in daycare again.
When he was 18 months old, I learned I was pregnant again. At that point, I did the math and realized that if I went back to work when the new baby was 1 year old, even logging the maximum number of allowable weekly hours, I wouldn't be able to get the 2,000 hours in the 6 years allotted since I had registered as an MFT intern. I had fallen off the therapy wagon.
I had been an advocate for children since college. My plan had been to help adults process their childhood traumas and find healing. Now I was changing my perspective. As a parent, and as a member of API, I was seeing that many childhood traumas could be prevented through secure attachment with better-informed, better-supported parents.
Though I still believe that therapy is an important part of preparing for parenting, there are many therapists who can help.
I reflected that the foster parents I had worked with were told that they could make a huge difference in the lives of the children in their care by allowing the children to bond to them, but we did not tell them how to do that. I remembered learning about attachment in college — noting that psychologists, social workers, and a whole range of researchers and professionals in the child-development field knew about Attachment Theory, the protective power of a secure attachment and the specific parenting behaviors that built a secure attachment, but that knowledge was not making its way to the public in any significant way.
I decided that focusing on parent education and support as a volunteer API Leader was how I wanted to spend my energy. It would not make me any money, but it would allow me to make a positive impact on my community and be where my kids needed me: with them.
Fortunately, we were able to stretch my husband's income much farther than we originally thought. Although I did not contribute money to our equation, I was able to spend much less than I would have if I had gone back to work. First, I wasn't paying for childcare. As my children got older and more comfortable with being without me, we started having playdate childcare trades with a few families we knew from our API group.
Not having a job also allowed me to spend less money on gas, food, clothes and other expenses — like a better breast pump. I did other in-kind trades; for instance, I did childcare once a week for my Jazzercise monthly pass. As the kids grew to preschool age, I enrolled them in a co-op preschool, which was much more affordable because I assisted in the classroom one day a week. Then I found an excellent alternative public school where parents were expected to volunteer on a regular basis. My husband had started talking about private schools soon after our kids were born, so I count this as a major savings that my being home afforded us.
After several years, my API coleader decided she wanted to follow her dream of opening an educational lending library, and I wanted to take my education and training and become a parenting educator, teaching attachment-focused parenting. We tried to find members to take over the leadership, but when none came forward, we regretfully closed the group.
I spent a year or so procrastinating on writing my curriculum — well, I did have 2 kids keeping me busy — then I learned that API's cofounders had written a parenting curriculum! So I started on the road to becoming re-certified as an API Leader, opening a new API group and building infrastructure and awareness of Attachment Parenting in my community.
When the co-founders presented a training in Los Angeles, I jumped at the chance to take the next step in my plan! I learned so much about meeting parents where they are and giving them evidence-based information about what children need for optimal development — that nevertheless often runs counter to the cultural norm. Meeting API Cofounders Barbara Nicholson and Lysa Parker, and other API Leaders as well as other helping professionals, was very inspiring.
I am excited to be poised to use the workshop format to reach parents-to-be and parents of young children in my community. I believe that learning about the importance of secure attachments and API's Eight Principles of Parenting will make a difference in the lives of many families, as it has in mine.
My two sons are in middle school and high school now. I know that I am very privileged to have been able to stay home with them this whole time. My volunteer work for API, as well as at my kids' schools, has allowed me to feel belonging and significance — to borrow a phrase from positive discipline — while balancing my work and family life with a degree of control that is not affordable to many.
The API Support Group that I started 5 years ago, Monterey Bay Parenting, will always be free for anybody who wants the information and support, because that's how we roll at API.
However, I will soon be able offer "Attached at the Heart" workshops on a tuition basis. This will make my husband happy, especially since he's still paying off my college loans! It will also allow me to set my schedule so that I am there for my kids when they need me. As teenagers, they need to stretch their wings and feel their independence, but they also need connection and guidance as much as they always have.