Editor's note: Attachment Parenting International (API) recognizes the amazing creativity of parents to balance their children's attachment needs with their financial needs and/or career in order to provide consistent, loving care especially in the first few months postpartum but also throughout the early childhood years when parental presence is most critical to establishing a secure attachment relationship. This year's Attachment Parenting Month focuses on the theme: "Parental Presence: Birthing Families, Strengthening Society." We invite you to share your story of how you were able to balance working and your child's attachment needs, and we thank API Leader Megan Bell for sharing hers here.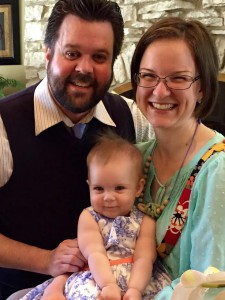 I'm a classically trained singer.
Before becoming a mother, I worked a number of various part-time, "day jobs" while also teaching out of my home and singing professionally in a few choruses and at a church. My vision for balancing work and motherhood was that I'd quit all the "day jobs" and only work as a musician.
My husband teaches at our local community college and has the flexibility to determine the schedule for his classes each term. He's naturally a night-owl, so he'd always set his work schedule to be from about 12 noon-8 p.m.
My daughter is now 16 months old, and it's taken us that long — through trial and error — to realize that my husband's work schedule needs to change so that he's available earlier in the evening. This way, he can be the primary the caregiver when I'm in rehearsals and concerts. It's a work in progress, but we are getting there!
Currently we have a babysitter or a family member help between the time when I have to leave for my work and the time when my husband gets home from his work. It's important to us that I am able to continue to sing professionally — and to have him be the primary caregiver when I'm away.
A year or two before I became pregnant, I started teaching private voice and piano lessons from home with the vision that I'd be able to continue working from home without concerns for childcare. I'm very happy to say that my daughter loves listening to my students' lessons, and it's been fairly easy to balance caring for her while teaching. It's nice to have a job where I am able to continue to contribute financially to our family, and also have my daughter right there with me.
Reflecting upon my postpartum period, I realized that I went back to work too early. I went back after 6 weeks, thinking that's what was standard. Since I'm self-employed for all my jobs, I can determine my own maternity leave — all of which is unpaid. For my next baby I think I'd be ready at something more like 12 weeks, if we can swing it financially.
Not only was my body not ready at 6 weeks, but I wasn't emotionally ready to be away from her and — I'd say, most importantly — my baby wasn't ready to be away from me. She had a very difficult time and so did her caregivers. Each child's temperament is different, so my next child may need something else completely. For my own sake, however, a longer maternity leave would do me good.
The way of a musician's work is usually a patchwork of income from multiple jobs. It's unconventional, but it's what I've always known so, to me, it's normal. I teach from home 3 afternoons a week, and sing at a church on Sunday mornings and in multiple professional choruses at varying times. The irregularity of the chorus work is the most challenging aspect of balancing my work and family obligations. Sometimes I have rehearsals once a week, sometimes every day and sometimes I don't have anything for a few months.
I'm very thankful for my husband who is understanding of my work and can be flexible with his schedule. We also couldn't do it without our family members, friends and babysitters who have filled in the gaps. It really does take a village to raise a child.