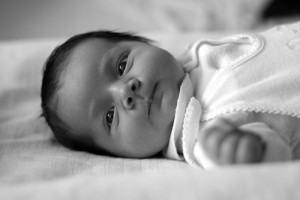 A little more than half of all babies in the United States — 53% — are born into families that income-qualify for WIC, a federal supplemental nutrition program that serves low-income pregnant, postpartum and breastfeeding women and their children from birth to age 5 in the United States.
Think about that for a second: Half of all U.S. babies are born into low-income families, the population segment least likely to be able to take parental leave of any type — paid or unpaid — after the birth of a baby.
We like to think that the U.S. Family and Medical Leave Act (FMLA) covers all families so that even if a couple does not get paid maternity and paternity leave, they can at least take off some time from work without losing their jobs. This isn't remotely true.
Unless you work for an employer with more than 50 employees within 75 miles of the company, you are not even guaranteed leave under FMLA after the birth of your baby — even unpaid. (There are some state laws that do guarantee maternity and paternity leave, usually unpaid, for companies with fewer employees, but there is nothing consistent from state to state.)  That means that millions of moms, if they are not employed by large companies, risk losing their jobs if they stay home for the medically recommended 6 to 8 weeks following childbirth.
I've known moms who've been forced by their circumstances to go back to work at 1 week postpartum, or even sooner.
This is a tragedy of human rights in itself, but what does this do to the mother-baby bond?
Bonding time with a newborn in the early months isn't just a "nice thing" to have or for a mom to get to do if she's privileged enough. That mother-baby bond — whether secure, shaky or absent — has a significant impact on the trajectory of that child's life…not only through childhood and in school, but who that child will grow up to be, what socioeconomic status he or she will have, and how he or she will be as a parent, employee and fellow member of society. Just think of what the future may hold for any of those 53% of U.S. babies born to mothers who are not even guaranteed time off from their jobs for even a week after childbirth — let alone the minimally acceptable 6 weeks that is still woefully short of what research shows to be the key bonding time during the newborn months.
Privilege shouldn't have anything to do with parental leave — paid or unpaid. Because presence, or lack thereof, can have such great influence on the future of each baby born, parental leave is a human right that should be granted to every mother and father, and parental presence is a human right for every newborn baby.
So first the United States needs to work on guaranteeing that all parents have access to at least parental leave after the birth of a baby. But a very close second is to ensure that all parental leave is paid.
Right now, only 12% of U.S. workers in the private sector have access to paid family leave, according to the U.S. Department of Labor. This means that for the millions of moms whose jobs are protected under FMLA, they still likely cannot take off work for the 6 weeks to 3 months allowed because they cannot afford to do so. Their parental leave is not unprotected as is the case with many low-income parents whose jobs aren't even covered by the FMLA, but it is still under-protected in that they cannot enjoy their full rights and their bonds with their infants may still suffer.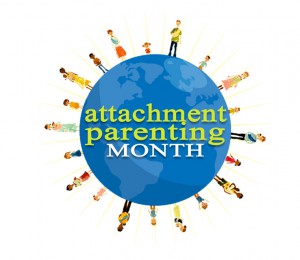 Our goal at Attachment Parenting International (API) is to keep the discussion on parental leave moving forward, while supporting mothers and fathers no matter whether they have access to paid or unpaid parental leave or even no leave. We were able to generate great momentum during our Attachment Parenting Month in October 2015 with activities centered on the theme of "Parental Presence: Birthing Families, Strengthening Societies."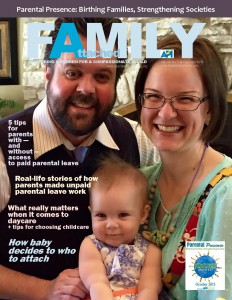 In the latest issue of The Attached Family, we provide a recap of these AP Month editorial pieces as well as a few new articles, with features on:
We hope that this issue of The Attached Family will inspire you to find ways to balance your child's attachment needs with your family's financial needs, as well as to join in the national and international discussion on parental leave as a human right to be guaranteed to all families — no matter their employer size or personal financial resources.
Help API continue being able to offer The Attached Family free of charge as an online magazine to families around the world. API is a nonprofit organization and depends on your tax-deductible donations. Even $5 goes a long ways!
*Top photo source: FreeImages.com/Soňa Psotová