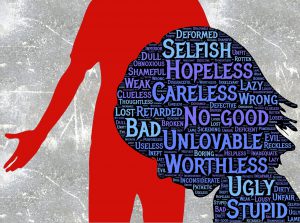 "Parenting without shame" is a hot topic on search engines. Google pulled up more than 5 pages for me of links with this search term. It seems that many parents are looking for ways to raise their children without shame.
But is this possible?
Shame is among the myriad normal emotions felt by humans in certain social situations. It is borne of a feeling that one has violated the standards of their social group. With this in mind, it would be nearly impossible to eliminate shame from a child's emotional repertoire.
No, I don't think it's shame in and of itself that we parents fear. We understand that, as an emotion, shame is an uncomfortable feeling. But denying the feeling of shame completely is like denying anger as an emotion. It's neither practical nor healthy.
Actually, what we parents fear is inadvertently raising our children with an identity shaped by shame. And this is a valid concern. Past generations used shame pervasively as a discipline technique, and many of us can identify parts of ourselves still tied to a shame-based self-image years and decades later. We do not want our children to grow up in a family environment where shame is promoted.
But we must still value discipline. Our children thrive with warmth, sensitive responsiveness, empathy, trust, nurturing, and boundaries. Boundaries on behavior guide children toward the family values we hope to pass down. Boundaries are healthy. They keep the child's developing mind knowing the parameters of what is safe in the world and what is not, what is expected by his social group or not, how she can gain a feeling of contentment or not. Children need the structure provided by boundaries.
So, therein lies the question: How do we teach our children boundaries in their behavior without instilling a shame-based self-image? The seventh of Attachment Parenting International's Eight Principles of Parenting — Provide Positive Discipline — is how. Being consistent and firm, yet not harsh or punishment-based, positive discipline creates an environment that specifies the boundaries of behaviors for a developing child without relying on physically hurtful or emotionally manipulative tactics to control and coerce children. The goal of positive discipline is instead to teach and guide. And it works.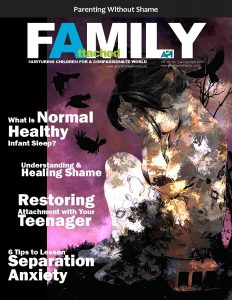 This latest issue of Attached Family, "Parenting Without Shame," explores and examines shame at its core — what is it, how does it differ from guilt, when does it cross the line from a normal to unhealthy emotion, the effects of toxic stress, and the great difficulty it is to heal a shame-based self-image. It's an in-depth look at a rather scary emotion, but it gets to the heart of an often-misunderstood topic, and it affirms how positive discipline and Attachment Parenting is protective of our children's self-worth in a shame-based world.
Click here to access the online magazine and be inspired in your parenting,
Rita Brhel, Executive Editor of Attachment Parenting International