As we reflect on this year's theme for World Breastfeeding Week, August 1-7 – "Protect Breastfeeding: A shared responsibility" – it is imperative that we understand that protecting breastfeeding requires us to normalize nurturing.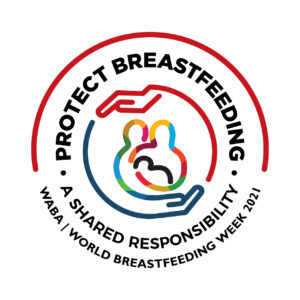 Nurturing parenting is invariably linked to breastfeeding. While not all mothers are able to breastfeed, we recognize that breastfeeding – and breastfeeding behaviors while giving a bottle – is one of nature's best teachers of new parents in how to sensitively and consistently respond to their baby as well as learn to develop the reciprocity of a healthy relationship between parent and child.
Related: Nature's case for breastfeeding
Largely due to cultural pressures, even when mothers are able to get breastfeeding off to a strong start, there is a sharp decline overall in breastfeeding rates in the weeks and months after childbirth. The World Alliance for Breastfeeding Action (WABA), of which we are a member, has found that premature weaning tends to happen when mothers are without access to knowledgeable support while encountering problems with breastfeeding.
Breastfeeding problems are common, making widespread access to breastfeeding support paramount. International Board Certified Lactation Counselors, La Leche League leaders, and other trained advocates are key players in not only breastfeeding education but also nurturing parenting. The early days, weeks, and months of breastfeeding serve as a crucial time when mothers and fathers learn how to parent…to relate to their baby with nurturing behaviors, or not.
Related: Who will Baby attach to?
These early parenting lessons, which set the stage for years of a secure or insecure mother-infant relationship, are often absorbed in a time of relative isolation.
Traditionally, support to new parents was provided by the family…particularly the new mother's mother and grandmother. However, as society has changed, mother support must come from a wider circle. This is where community support enters.
A new mother and father may have access to lactation consultants, depending on their geographic location. Some trained health care providers are able to provide ongoing support between medical appointments for acute breastfeeding problems; many are limited by their funding. La Leche League International fills the gap by training mothers with personal breastfeeding experience to volunteer in their communities by offering mother-to-mother support that complements professional care.
Likewise, we provide training to become a Certified Attached at the Heart Parenting Educator to provide holistic support to mothers and fathers in your community as they learn how to incorporate nurturing into the parenting of their children.
Related: Find a parent educator
As certified parenting educators, we offer basic support and community resource referrals to help parents make the best decisions for their families while educating them on the research-backed ways of bringing nurturing into their parenting. We help mothers view breastfeeding within the context of the whole mother-infant relationship and family dynamic, and how the give-and-take interaction that builds the foundation of secure attachment can be applied beyond breastfeeding.
Breastfeeding naturally promotes nurturing parenting. Overcoming the challenges that may come with breastfeeding sets the stage for building resilience through nurturing parenting for years to come.