Among API's Eight Principles of Parenting is #8 – Strive for balance in your personal and family life.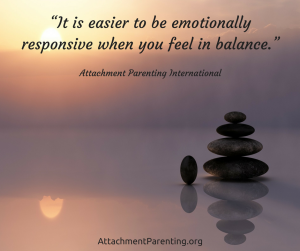 This, many parents agree, may be the hardest principle of all to follow. It's not that we don't want to. Sometimes, balance seems impossible to attain in our child's current developmental stage or a particular calendar season.
Related: The chaos theory, the search for personal balance amidst parenthood
Other times, we may really be trying…giving a list of ideas a fighting chance…but it just doesn't seem to be making any difference. You're drained, stressed, and it's spilling over into your family life.
Paces Connection recently shared about what may be happening when it seems that self-care isn't working. Here are some take-aways from the article:
Self-care is not the same as self-improvement. Self-improvement is about changing who you are. Self-care is about restoring yourself to who you currently are. Self-care has no agenda. It may look like a hobby, spending time out in nature, alone or with other people, but the common denominator is that the goal is not self-improvement and no real goal other than to re-center the self.
Related: The self-care challenge
Self-care is most nurturing when it combines physical care with emotional/spiritual care.
People with a history of trauma need to give themselves extra time and gentleness with discovering what works best for their self-care. Those who have experienced physical abuse, for example, may have difficulty with a massage.
Some classic self-care techniques to try:
Mindful meditation – sitting in the quiet, allow yourself to identify and feel your emotions without holding them back or acting on them. Warning: This may trigger panic attacks in some people. What then? Try looking out the window for a few minutes and simply observe what you see and hear. Absorbing handwork, such as sewing or gardening or carpentry, can also serve as a meditation alternative.
Related: Mindful Parenting with Inga Bohnekamp
Yoga or Dance – movement is often soothing to a stressed body. Warning: This is not time to focus on using exercise to improve your body image! Instead, combine this non-competitive physical activity with mindful meditation and emotion processing.
Journaling – writing allows the brain to connect new ideas, explore feelings, and philosophize. Warning: Do not let yourself fall into the trap of confusing journaling with writing! The end goal with journaling is not to get published or even be read by anyone. It's to let your thoughts out of your head. Also, remember how the most nurturing self-care is both physical and emotional/spiritual? Typing may not yield the same restoration as handwriting.
Related: Writing for balance, an attachment parenting tool
Self-empathy – this piece of self-care can be done anytime, anywhere. Just as you empathize with your children or others, it's important that you empathize with yourself. Basically it means not dismissing the feelings you have about yourself, but rather understanding that whatever your feelings, they are OK to have and have a reason. Warning: Don't be hard on yourself if you are in the habit of dismissing your feelings. Acknowledge the habit and try again. The more you practice, the more solid those new brain connections become to change your habit of dismissing or self-empathizing.