I returned to university to pursue a second degree this past January. I am now into my second semester as a mom of two school-age kids, and a student in my own right. While there are some other, ahem, mature students in my classes, on average I am much older than my classmates. Like, decades older. Like, old enough to be their mother older.
This has been interesting, as we have studied history I lived through, and I filled them in on what life was like in the olden days. I have a different perspective to offer. I am bringing different things to the table now than I did during my first degree.
When we talk about combining parenting with work or school or volunteering or pretty much anything else, we often think about the difficulty of juggling competing priorities. And it is hard — don't get me wrong. Right now I'm working part-time from home, I'm taking two university classes and I'm juggling the end-of-the-year concerts and school commitments of two kids. I am busy, and I can't always do it all as well as I would like. At the same time, my experiences as a parent have helped me to become a better multi-tasker, to keep my eyes on what really matters and to accept my own limitations. The perspective on life that being a parent has brought me enriches all of my experiences.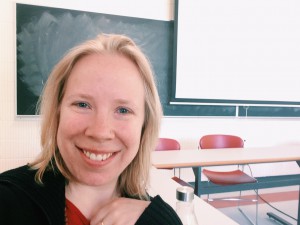 When I was 20 years old and a full-time student, having a bunch of schoolwork due at once sent me into a tizzy. I was easily overwhelmed, and I put a lot of pressure on myself. Today, I have a different perspective on what pressure means, and I'm not nearly as easily overwhelmed. I've experienced pregnancy and childbirth. I've been pooped on, peed on and puked on. I've sat up at night with babies who wouldn't sleep, with babies who were sick, with babies who needed to nurse at all hours. I've put aside my own needs for the needs of two little people who depended on me completely. I've learned how to let go of my own stuff and deal with what needs to be dealt with in the moment.
These lessons I've learned as a parent — and perhaps, most especially, as an attachment parent — are actually gifts. They help me to keep going when I'm having a hard time. They remind me of just how much I actually can do. They also taught me how to take my rest where I can find it, and to live in the moment. While it is challenging to juggle parenting with work and school, my perspective as a parent is actually a tremendous boon, and I am incredibly grateful for it.
It is strange to be the oldest person in class, including the professor and teaching assistants. The perspective I have today thanks to my life experiences, though, is making this university experience much richer for me. Having children really does change your life, no matter what you go on to do. The good news is that this change, while hard, is ultimately for the better in so many ways.