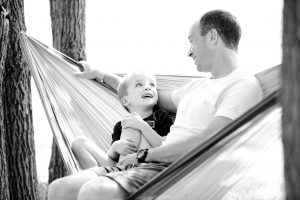 One of the most important and challenging undertakings of parenting is to build strong, close bonds between children and their parents. A strong parent-child connection enables children to become confident, independent, develop healthy relationships, and become a peaceful adult.
In his book Playful Parenting
, Dr. Lawrence Cohen points out that through play, children explore the world, work through challenging situations and get connected with the people they are close with.
I have found that approaching common parenting struggles with Playful Parenting techniques to be very effective, and it helps to make things easier and more fun for everyone in our family.
Through play, we get to join our children's world — promoting mutual respect, exploration, and cooperation while enjoying each other's company.
Using Play to Manage Parenting Struggles
Parents of young children experience many situations where the child resists when they're asked to do something: They don't want to pick up their toys or get dressed to go out; they don't want their hair washed or their nails cut. The list goes on. Making a game out of these tasks can help. It instantly makes the activity more fun and enjoyable for the child and makes it something they're much less likely to resist.
When my toddler son was into recycling and trash trucks, we made a game of cleaning up his blocks by saying, "Let's put all the trash in the trash truck." The blocks were the trash, and the container was the trash truck. When he was 3 and very much into firefighters, we made a game of getting dressed to leave the house by saying, "There's a fire! It's time to get in the fire truck. Let's get on our fire coats and boots!" He'd then be quick to get on his shoes and coat to get in the car.
Many times, parents think they don't have time for such games. You're in a hurry to get out the door, so why add in a game and waste more time? But I find that when we play our way through it like this, it actually takes less time for my children to get ready.
Some critics say that parents shouldn't have to do this and that a child shouldn't need a game to make them listen. While it's true that they don't need it, and there are many other ways to help children cooperate, it does make it more enjoyable. Just like, as an adult, I find it's more enjoyable to clean while listening to music, or to fold laundry while watching TV. It's the same concept.
Playing Your Way Through Fears
Play can help release tension and can make what seems scary into something silly. In this way, it can be used to help children work through their fears.
When my son was 4, he was scared during thunderstorms. The sudden sound of thunder was too startling for him, and it kept him tense at bedtime. One night during a storm, I said to him, "What do you think that thunder sounds like? I think it sounds like a train rumbling down the track." He loved Thomas the Train, so I suggested, "Maybe it's Thomas!" He started to laugh, and I kept going: "That was really loud. It must've been Gordon, because he's so big!" This turned it into a fun game and made the experience less scary.
Play can also help with minor stresses. A child may come home upset after a hard day at school but then may get to work out some of those emotions by playing school where he is the teacher and in charge.
Dr. Cohen talks more about the idea of using play to handle childhood anxiety in his book The Opposite of Worry
.
Connecting with Children Through Play
One part of Playful Parenting is about strengthening connection between parent and child. Children who feel connected and attached to their parents feel closer to them and thus want to cooperate with them. One simple and effective way to connect with our children is to sit and play with them.
Playing can be hard for adults: We're out of practice, or have low patience, we may have forgotten how to play, or simply feel like we don't have the time for it. Some people may feel awkward or embarrassed about being silly and goofy if they participate in children's imaginative play, like a dad who may not want to sit and play with dolls with his young daughter.
However, when we make the effort to be involved in our children's interests and carve out even as little as 10 minutes a day for one-on-one child-led playtime, our children notice it and respond positively. Deepening our connection with our children makes them more likely to respect us and to want to do what we ask of them. It helps them feel secure and loved, and makes us all happier.