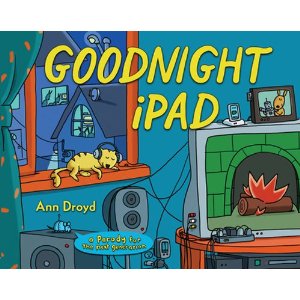 I flipped through this book at the counter of our local toy store the other day. It's a humorous take on the classic "Goodnight Moon," which my kids and I have read together countless times. And it is funny; an apt exaggeration of how virtuality has replaced so much of what is "real."
But it makes me a little sad, too. That our world has become so plugged in that there exists a market for this kind of parody. That there exist gadgets for reading and being read to, for listening to music and making music, and for communicating with people without having to see or talk to them.
So many gadgets, so short a childhood.
Don't get me wrong, I enjoy the convenience of technology as much as anyone. Our family certainly has our share of gadgets. But the idea of "Goodnight iPad" does hit close to home for us.
Me: Goodnight iPad.
My son: Nooooooooooooooooo!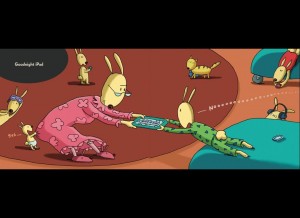 Not quite, but pretty close. The difference is I'm not smiling when I pry the iPad out of my 5-year-old's hands.
Recently, we've been keeping closer tabs on our screen time, both grownups' and kids'. It has become way too easy to allow some type of screen to keep us entertained on a whim. Between iPhone, iPod, iPad, laptop, and the good-old-fashioned TV, our kids are always only a finger touch away from easy entertainment. When they're bored, it is only too easy for them to turn on a device instead of playing with toys.
And it's too easy for me to want to. When days are filled with stress (either theirs or mine) because of school, work, household tasks, or the emotional upheaval of a 5-year-old's growth spurt, it's tempting to turn on a device that will allow them to relax, keep them busy, and stop the bickering. Gadgets are always an easy solution to stress.
But when we start to become dependent on them, something needs to change. When I say, "No iPad today," and they don't know what else to do with themselves, something needs to change. It means they've become to accustomed to a screen as their go-to to-do, and that needs to change.
I used to read the AAP's recommendations for appropriate amount of screen time for young kids and think, "Oh, thank goodness that isn't us." We never used to have issues with keeping screen time to a minimum, but lately the accumulated hours have crept up on us.
So, goodnight iPad. Goodnight TV. Goodnight iPhone-in-restaurants. Goodnight video games of any kind.
Hello conversation. Hello toys and games and books. Hello puzzles and mazes. Hello blocks, Legos. Hello wrestling matches, swords flights, and dress up. Hello sketch books, hello colored pencils. Hello creativity and imagination.
Also hello whining and complaining…at first. In my state of exasperation with our screen situation, I eliminated every trace of them from our day. It may have been a little extreme, but cold turkey seemed necessary. Oh yes, there was withdrawal. The symptoms included angry faces, sad voices, confusion, boredom, chronic whining, and constant shouts from Mom to, "Go do something!"
And then eventually…contentment. Cooperation. Ingenuity.
It's been a few weeks now, since we said "goodnight" to the screens, and the kids haven't been asking for them. They get up in the morning and go to the pantry for cereal instead of the iPad for games. When they're bored, they don't immediately think of watching a show. They go to the bookshelf or the game cabinet. Our arts and crafts supplies are dwindling, the playroom is a happy mess, and my son always has a toy in his hands.
Will screens eventually creep back into our day? I'm sure. But I'm contented to have come to a point where they don't seem necessary for engagement. Without the devices, we are engaging more with each other…imagine that! I know that technology affords us the convenience of connecting us to the world, but I see healthier connections made without it. Skip the digital connections please, I'll take the interpersonal ones any day.