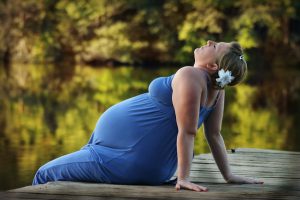 Observing a friend struggling with, and complaining about, the last days of her pregnancy –constantly posting on Facebook about how she finally wanted her baby to make an appearance in the "real world," listing details about all the activities she undertook in order to make this happen ASAP — made me reflect on the delicate dance that childbirth is. 
I get it. I've been there.
Ready to Push?
Feeling big — no, huge! Not being able to see my toes anymore, let alone tie my shoelaces. Feeling very swollen in the summer heat and out of breath after walking up the stairs to our apartment on the 4th floor. Rolling around on the mat in my prenatal yoga class feeling like a huge whale. Nights spent sleepless with heartburn, an active baby in the belly, and a bladder that never wanted to go to sleep.  
And then, there is all the excitement about finally getting to meet this tiny human being that you have lovingly and patiently grown in your belly for all these long months. The excitement about becoming a parent — for the first, second, third… time. There are all the people around you, asking when the baby is due — which does not really help or make waiting any easier — and so many other good reasons to finally push the baby out of your belly and into the world. 
But First… 

 
But there is another side to the story, which tends to be forgotten or at least does not enjoy a lot of spotlight.
A more delicate, more sensitive — even darker — side that might not be as limelight-worthy or Facebook post-worthy…a side, which in my opinion, is just as important as the "push side."
It is the side that mindfully focuses on letting go.
On gentleness, on feeling, on making space for the baby to come into this world…and making space for what is to come and follow.
On becoming aware of and consciously reflecting what is transpiring inside of us: physically, spiritually, and emotionally. 
Facing Our Feelings
This includes facing our anxieties and deepest fears and doubts about birth and about parenthood, about our ability to "do a good job" at delivering and then protecting, nurturing, and growing this delicate, wonderful new being that we already love more than we could have ever imagined. It may also include acknowledging and confronting our fear of failure, our fear of pain, our fear of loss, and our fear of fear. 
Furthermore, it includes facing the reality that things are (again!) about to change tremendously. That not only our everyday life is about to get the next big overhaul, but also our whole universe: The way we relate to the world, and the way we relate to ourselves is going to drastically change.
It includes coping with our bodies changing — yet again — from the pregnant state to a postpartum state, which will look and feel very different from what we are accustomed to and from what we might actually enjoy or expect seeing and feeling. We might feel empty, tired, depleted, sore, and possibly a far cry from attractive and sexy for quite a while.  
I vividly remember mourning my "empty" belly for several days following my daughter's birth. It felt empty and somewhat sad to not feel my baby inside my belly anymore. While I was certainly very happy to finally be able to hold her and cuddle up with her in my arms, I missed this innate and exclusive feeling of connection to her.  
Bringing Together the 'Pushing Out' and the 'Letting Go'
I believe that, in order to consciously and mindfully prepare for birthing our child, it is important to take the time to look at and ideally merge both sides of the equation: the "pushing out" and the "letting go."  
The tiredness of being pregnant and the energetic eagerness to have baby out of my belly have certainly helped me tremendously in getting over my fear of giving birth and all the pain that would be — and certainly was — involved. However, being mindful, open, and receptive to the side of letting go, creating space, and facing anxiety, doubt and fear — even mourning during this transition — has certainly proven to be very helpful as well. I believe it might be one supportive part in the puzzle of alleviating or possibly even preventing feelings of the "baby blues." 
So, I'm calling on all expecting moms: Take a deep breath and give yourself a mindful moment — and ideally many more — and some space to merge both ends of the continuum. By doing this, you will be giving your body, mind, and spirit a chance to holistically and soulfully prepare for what is to come instead of forcing it into birthing-action mode.