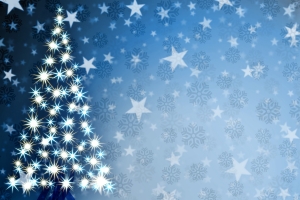 Today, I want to share with you a beautiful, mindful way to ring in the New Year as a family: Wishing upon a star.
You can repeat this practice on a regular — maybe monthly — base throughout the year if you like. It is a beautiful way to check in and connect with your loved ones and mindfully, playfully, agree on some core values.
I have to confess that I have never been fond of New Year's intentions. In fact, I cannot recall ever having set some of the typical New Year's intentions.
However, I love — and have enjoyed sharing with many kids, teens and families so far — this idea of mindfully and gently inviting whatever it is you wish for…may it be more happiness, kindness, joy, ease, harmony, health…into your lives. You can practice with children and teenagers of any age, simply by adapting your choice of words.
Wishing Upon a Star
The setup: A cozy space to sit — e.g. your living room floor (how about sitting by the lights of your Christmas tree, if you have one?), a cozy rug or blanket spread on the floor, a couple of cushions or yoga mats arranged in a circle, or…you get the idea.
I highly recommend turning your session into a fun and creative crafting project. This helps visualize your wishes and gives you the opportunity to create a shared reminder for future reference, which you might pin up on your fridge or another communal spot in your home.
For the crafting, you will need many stars (made of cardboard, paper, foam or any material you feel comfortable writing on and of colors according to your family's preferences), colorful markers, a large piece of cardboard and glue, or a pin board and pins.
Once everyone feels ready, all together come to a nice, comfortable, seated position — making sure each of you has some space around them for extending arms on both sides of your body — and gently close your eyes.
Take a couple of deep breaths in and out, letting your breath simply flow in its natural rhythm, giving each of you a chance to settle and check in with yourself for a couple of moments, and to anchor your awareness on your breathing.
Then, gently holding your awareness on your breathing — and simply bringing it back there over and over again whenever your attentions starts to wander elsewhere — gently deepen your inhales and your exhales more and more, as much as it feels comfortable to each one of you.
With each deep inhale, now spread your arms wide open to your sides — much like as if you were about to give someone a huge hug — creating space. Pause. When the exhale rolls in, gently let go, letting all the air float back out of your body. Simultaneously lower your arms to wherever feels comfortable for you: your lap, your sides or maybe bringing your palms together in front of your heart. Pause, settling into the space and calm.
Continue this breathing pattern for a couple of minutes:
Inhaling: Opening up, creating new space, making room for whatever it is we would like to invite into our lives.
Pause.
Exhaling: Letting go, gently letting go of things we might hold on to that no longer serve us and giving us a moment to settle into the clear space we have created with the power of our breathing.
Pause.
Repeat.
Adapt the length of this exercise to your family's preferences and of course the age of your children: The younger your children, the shorter the practice will probably be. Once you feel you have continued this breathing pattern long enough, gently return to the natural rhythm of your breathing and mindfully follow it for couple more moments before you gently open your eyes.
Share a smile. Share a hug. Share a huge hug.
Then, on to the crafting part. Each of you grabs as many stars as you like and, one wish per star, writes down things each person would like to invite into his or her lives and into your life together as a family.
Share. Connect. Discuss. Explore. Stay open, and let yourself be surprised. This is a wonderful occasion for connecting with your loved ones and sharing what is close to your hearts. Have fun with this!
Once you have assembled all your stars onto the cardboard or pin board, find a beautiful space for the reminder you have created. And, if you like, come back and check in regularly.
Happy New Year to all of you! May whatever it is you wish for on your stars find the space to enter, enrich and lighten up your lives!