Editor's note: Attachment Parenting International (API) advocates for a parenting approach rooted solidly in research, and continuing research further validates and builds upon API's foundation. API is excited to collaborate with Salem State University in the development of this opportunity for AP parents to share how they practice Attachment Parenting (AP) in their home, specifically regarding cosleeping: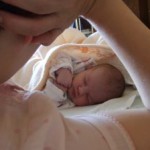 Dear Friends and Colleagues,
I have been involved in Attachment Parenting research for many years, both as a practitioner and as a researcher.
I am currently conducting a study about families who are continuing to cosleep with children at a variety of ages and may either be considering transitioning the child to their own bed or room, or have already gone through this transition.
I would also like to hear from parents who can't imagine this as of yet or even ever.
As such, please complete the survey and share the link with others who may be interested. Access the survey link through the API Forum. (You will need to use your forum login; if you don't have one, it's free to join.)
The survey is a little bit long at 41 questions, but this information hasn't been collected anywhere, so it would be great to have it out there!
This study has been approved by Salem State University's IRB.
I may be reached at pmiller@salemstate.edu with any questions.  I would love hearing from you!
Thank you very much,
Patti Miller, Salem State University