A few days ago I was putting together a letter for the 2010 Trust Birth Conference and it started me on a train of thought that culminated today as I was sitting having the second pedicure of my life at the local beauty school. Let me take you for a little ride.
Most of us know that your bond with your child starts at a very early age, pre-birth actually. They hear you and are able to sense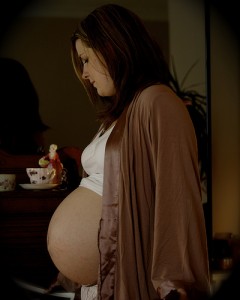 many of your emotions. They can even detect some of your actions. A baby can sense when they are wanted and loved and when they are not.
From the very first moment I wanted my baby and everything to do with baby making to be healthy and holistic. Several people suggested I drink before my wedding night to make things "easier." My thought was "Why? I want this to be the night that my husband and I become one, where we attach, where we form our life-long bond, why would I want to be anesthetized for something as amazing as this?"

I was pregnant very shortly after my wedding and I was happy to know that my son was conceived with me in a conscious and aware state of mind. During his pregnancy I thought about what I put in to my mouth, what I listened to, what I read, and who I was choosing as a care provider. When it came time to birth my son I trusted that my body knew what to do, I surrounded myself with people who could re-affirm that belief if I happened to lose my direction during labor.
I had him where I was most comfortable, at home, with my mother, my sisters, my husband, a midwife and even my father. I was surrounded by the people who I was attached to and I was fully conscious and aware as I took each step to birth my son. When my son was born I grabbed him to myself, skin-to-skin rocking him and crying "my baby, my baby"; we knew each other.
I know all kinds of women who have birthed and attached to their children in all kinds of ways. It is always work. Sometimes I think it is more work than is necessary because trusting birth is just a step in trusting yourself as a parent, trusting attachment, trusting your choices.
Trust starts at conception, they are entrusted to us and fully trust in us as we birth and raise them to become fully attached loving and loved children.
Jasmine is a co-housing community living mama with a passion for fierce writing she blogs at www.herscreed.wordpress.com
Photo: Memotions/Flickr