Last week the second of my two children, my son, turned 6. I can hardly believe it, to be honest. Six! He's not a baby anymore, or a toddler, or a preschooler. He's not even a kindergartner. He's looking forward to starting first grade in a couple of weeks. His big sister will be starting fourth grade at the same time.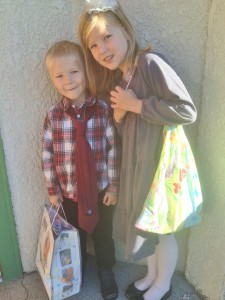 I was just looking back over some of the other posts I've written here at APtly Said, which date back to 2009. Over the past five years, my parenting style has shifted as my children have grown. Their needs have changed, so the way I relate to them has also changed. However, one thing that hasn't changed is my commitment to maintaining a secure attachment. The way I go about it may be a little bit different these days, but the reasons are much the same.
I want my kids to know that I am here for them, no matter what. Because we have created and nurtured a strong bond, they know that I am in their corner, and they always have a safe space to return to after their adventures in the world. Today I have happy, independent, resilient kids. Is it all due to our Attachment Parenting practices? I have no way of knowing for sure, but this parenting approach has worked well for our family. And when my kids bowl me over with their awesomeness, it's like payback for the time I invested in them when they were younger.
When we think of Attachment Parenting, we often think of practices like cosleeping, breastfeeding and babywearing. With a 9 year old and a 6 year old, I don't do any of those things. So what does Attachment Parenting look like at this stage? Here's how I incorporate Attachment Parenting International's Eight Principles of Parenting into my daily parenting:
Feed with Love and Respect — For my kids, this means offering a variety of healthy foods, and then respecting their choices. Of course we have the occasional treat, but because I know that they generally choose from food that I am comfortable with, I don't sweat that too much. At this point, my kids are also preparing more of their own snacks, so they are taking even more charge over what they eat, choosing from the foods I offer. They especially love to use the toaster.
Respond with Sensitivity — Today I give my kids more space to work through their own emotions and solve some of their own problems. I let them know that I'm available if they need help or comfort, but I offer a hug rather than just scooping them up. Sometimes when my kids are upset, they don't want me around and that's okay. Almost always, they will come to me and share their anger or sadness — or their happiness, for that matter — when they're ready. When that happens, I do my best to be available and offer them both support and guidance.
Use Nurturing Touch — While I don't babywear anymore, and I respect my children's wishes around physical contact, we do spend a lot of time cuddling and playing together. My son likes to play a game he calls "huggy mommy" in which I lavish him with hugs and kisses and he tries to get away, laughing all the while. My daughter periodically comes to me and says she just needs a hug. This physical connection seems to help ground my kids and let them know I'm there.
Ensure Safe Sleep, Physically and Emotionally — There are a number of steps I take to help my kids feel safe and secure at night. My son has a night light and special blanket, and both of my children have favorite stuffed animals. We have bedtime routines with stories and lullabies to help prepare them for sleep. My kids also know that if they need me at night, they can come to me for a snuggle. Sometimes I will tuck them back in their own beds; other times — if they're really upset by a bad dream, for instance — I'll bring them into bed with me for a while or for the rest of the night.
Provide Consistent and Loving Care — These days, time away from me is mostly spent at school. This works well for our family. I love our neighborhood school, and my kids enjoy it as well. I realize that school is much more than childcare, but for many working parents it serves that purpose, and it's pretty fantastic. If the neighborhood school hadn't been a good fit for my kids, I would have considered alternatives. Many of my friends chose alternative paths within the public school system, or opted for private school or homeschool. I think you've got to choose what works for your family, whether it's daycare or school, so that both parents and kids feel secure in the choice. In my case, I chose the PreK-12 Independent School in Raleigh because I figured it was the right for me and my kids. 
Practice Positive Discipline — With school-age children, a lot of our discipline is really problem-solving. I do my best to listen to my children, validate their emotions and meet their needs. Then we work together to come up with positive solutions to problems. When there are issues at school, I make sure I understand exactly what happened from the teacher, and as adults, we craft a basic approach so that my kids are getting consistent messages and they understand what is expected of them. It's hard to follow the rules if you don't understand them or the reasoning behind them.
Strive for Balance in Your Personal and Family Life — With school-age children, I have much more free time than I did when I had babies and toddlers. While my kids still require adult supervision, they can be trusted to take care of their own basic needs and I even give them a bit of freedom to play at the park across from our house. Also, the time spent in school is time I can use for other tasks outside of parenting. This freedom has allowed me to do things like go back to school myself.
How do you practice Attachment Parenting with your school age children?