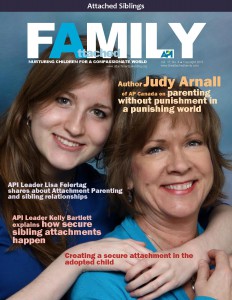 I am often amazed at how well my children get along. They are 9, 7 and 3 years old and each have very close, warm, secure and unique bonds with one another that very much enhance our family.
My 9-year-old and 7-year-old daughters are 16 months apart. They are each others' best friends, whether at home, softball practice, 4-H contests or school. They protect one another, tell each other secrets, share many of the same interests and respect each others' differences.
Yet, neither ever leave their 3-year-old brother out of the mix. Though my 9-year-old tends to take more of a protective, teacher role in her relationship with her brother, she isn't overbearing, letting him explore the world at his own pace. My 7-year-old daughter is as drawn to physical play, from playing tag and climbing trees to building forts and making tunnels in the sand, as her brother…while my 9 year old is more likely to be found reading books to her brother, guiding him on how to plant the beans in the garden or teaching him how to use the insect net.
Oh, my children still have conflict. This is inevitable in any relationship, but it is important to remember that conflict can be healthy. As children learn how to manage their strong emotions in an attachment-oriented way, conflict grows relationships. Through conflict resolution, each child's needs can be met while each learns more about the other as well as how to accept differences without threatening the bond.
I am intentional through Attachment Parenting (AP) in raising my children to have strong attachments to one another, and I will continue to be intentional as they move into their teen years and eventually adulthood. It is my goal that when they leave my home, that they continue the friendships they are starting now in their early and middle childhoods — and have the skills to quickly re-establish their sibling relationships when strained by life changes — in order to enjoy secure sibling attachments lifelong.
In the latest issue of The Attached Family, we at Attachment Parenting International (API) explore "Attached Siblings" with features on:
We hope that this issue of The Attached Family will inspire your efforts in encouraging secure attachments among your children.
We welcome your stories of Attachment Parenting in your family, including the benefits and challenges in your children's sibling relationships.

If you are seeking support in this area of parenting, begin by reading through API's Sibling Bonding resource page and API Reads' archived Siblings Without Rivalry discussion. Also, feel free to contact your local API Leader (or API Warmline for parents without a local API Support Group) or start a thread on the API Neighborhood forums.