"A child who obeys out of fear will only do so as long as he or she is scared. A child like this never develops an internalized sense of right and wrong without being policed by a more powerful authority figure." ~ Love and Anger: The Parental Dilemma by Nancy Samlin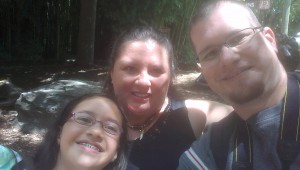 How do you feel about this statement? Did you find this to be true for you? Do you see this in those children around you?
For me, even though I was raised to obey out of fear, I still developed a sense of right and wrong because of the religious upbringing I had. But I do know that being punished meant that when I was younger I would hide things from my mom and that she and I didn't develop a close connection because I was afraid of her and her reactions to my behavior and questions.
As parents, my husband and I don't use punishments while setting boundaries for our daughter. We strive to be respectful in our discipline and to include my daughter in the process of problem-solving and guidance.
My daughter has a close connection with me but still hates to disappoint us. I have learned that you can set behavior limits in a loving way that isn't the same as demanding obedience out of fear — that instead keeps the parent-child relationship intact — and still have your child learn right from wrong.
Editor's note: Join this and other discussions on Goodreads through the API Reads online book club. You can read along in your own copy of Love and Anger, or even if you don't have the book, you can follow the discussion and take away bits of parenting ideas to try in your home. Learn more about the API Reads program or join for free directly at Goodreads.