The API Reads program is winding down a discussion of Attached at the Heart (2nd edition) by Barbara Nicholson and Lysa Parker. Join in on the last of the topics being discussed online at GoodReads:
Principle 8: Strive for Balance in Your Personal and Family Life – Peace Within Creates Peace at Home
Chapter 10: Nurturing Children for a Compassionate World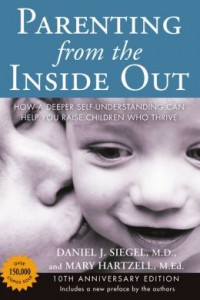 On August 17, API Reads will begin a discussion of Parenting from the Inside Out by Daniel J. Siegel. Read the Introduction and Chapters 1 and 2 to get started.
Then, in September, API Reads is launching a new and exciting opportunity: Participants will have the opportunity to read and discuss a book focused on the younger child (birth to preschool) and/or a second book focused on the older child (school-age and above). The books are to be read simultaneously, and parents can choose to participate in either or both book discussions. This will allow you to focus on the book that seems of the most interest to you at the time. We are truly excited about this new offering and hope you will be, too. Come check out API Reads on GoodReads to see what books are in the queue so far!
A program of Attachment Parenting International, API Reads is free to join so don't hesitate to join in the conversation. We read a chapter a week. Even if you're unable to get through the chapter, you may find you'll still be able to participate in the conversation. So come join the other 400+ members who are already part of the conversation!