This post is written by Stephanie Petters, coordinator of the API Reads program
If there's one thing many Attachment Parenting families share, it's a love of reading.
"Cultivating a sense of curiosity is so healthy, beautiful and eye-opening for me as a parent." ~From the API Reads discussion of Nurturing the Soul of Your Family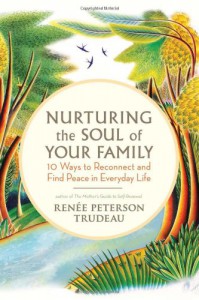 Join AP parents through July and August as we discuss Nurturing the Soul of Your Family by Renée Peterson Trudeau through Attachment Parenting International's online book club, API Reads (on Goodreads).
"…this book guides you in exploring the most powerful, essential things you can do right now to bring more peace and harmony to your family, or what I consider the 10 paths to peace," shares Renée. "I hope this book will help you realize you do have the answers you need. You just have to become quiet enough—and create the space—to hear them."
In just the first couple weeks, we've started learning about shifting our perspective, where disequilibrium comes from, challenging the beliefs we've inherited from our families, how self-care supports us in being more present with our partner and children as well as how self-care translates into owning our personal power and that it's about more than massages and pedicures, and that our families are our opportunities to heal and grow as a person.
~From the API Reads discussion of Nurturing the Soul of Your Family:

"Imagine exploring how to truly nurture our soul and the soul of our family in order to awaken to a deeper level of connection—to ourselves and others? THIS is the area I really want to 'get.' Nurturing my soul seems to take a back seat, and I tend to focus on what is happening in the moment that needs my immediate attention. I feel like I am in some survival mode mentality that I need to break from…"

"Agreed! I think it's hard to make time for oneself as a parent. If I'm not with my daughter, I feel I should take that time to nurture other relationships. It's easy to forget to spend time alone."
What more can we expect from this book? With the remaining chapters, we can expect to cover:
Making time for spiritual renewal
Loving the ones you're with—spending time together (like you mean it!)
Defining, celebrating, and honoring your family culture—learning what you stand for?
Slowing down—doing less to experience more
Exploring a new way of being—making hard choices, breaking free, and doing it different
Building your tribe—asking for and embracing help as you create your support network
"From page 187 on my IPad, 'Everything you want to experience with your family, you already possess. There's no need to create, craft, cook, farm, buy, or become something new in order to experience what's available to you in the now, in everyday moments.' Frankly, I have the time, it is just how I spend my time that I see as a problem. I am not always choosing to spend my time where my priorities actually are. My choices are often not made from a heartfelt place of being present. I allow the 'urgent' things to take precedent over the important. Add to that, when I picture what I see as a 'perfect' moment or day, it also often includes a 'doing' rather than a 'being,' such as baking, creating, buying, etc. The passage I quoted really struck me, because those things also involve a 'doing' that often takes time and focus off of the important. This focus on doing does not give me what I want and often takes from what I want. It struck me that if I come from a place of already being where I want to be with my family, then perhaps these activities could at times add to the joyful experience, but if my focus is on the activities, then I often do not get what I am looking for with my family." ~From the API Reads discussion of Nurturing the Soul of Your Family
Getting ready for September, API Reads will be featuring a book for couples, Getting the Love You Want by Harville Hendrix