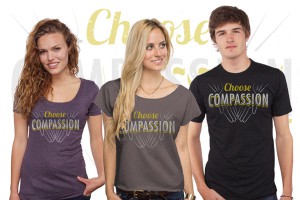 It's likely, as a reader of the APtly Said blog, you've done it. You looked at the world, at families, at children, and said, "I choose compassion."
In choosing compassion, you really have made so many choices. A choice to become educated about parenting and prepare to welcome your child into the world; a choice to try to respond with sensitivity to your child and others; a choice to be present with your child and nurture your child's health and emotional well-being; and a choice to live out compassion in many other ways that are intentional and meaningful to you. You practice compassion. Now here is a chance to wear it.
Selfless apparel approached API to say they have a mission to help nonprofits, and they want to support our mission. As their charity beneficiary, we are excited to have teamed up with them to bring you the "Choose Compassion" campaign.
Beautifully designed by their talented team, a Choose Compassion shirt represents so much opportunity!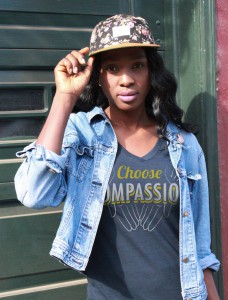 Wearing your Choose Compassion shirt means you helped to financially sustain and develop parenting support networks benefiting caregivers and children.
It represents a chance to create awareness about Attachment Parenting every time someone compliments you, asks what it means to you, or asks where you purchased it.
It encourages the volunteer Leaders, staff, donors, and all those freely giving their time on behalf of others.
It generates a connection and supports a movement as together we take this one week to visibly Choose Compassion in unison.
Already we have reached our initial goal, and we are thrilled! We thank those who have made purchases and who've been so complimentary about the campaign.
But let's do something extraordinary. Just visit the site and check out the shirts–see if you can help us push beyond to a new goal. Each shirt represents so much more than clothing each time you wear it–together we are all choosing compassion.
There are two more days to purchase your shirt or purchase gifts before the campaign is over. We hope you will seize the moment and show your support. After that? Wear your shirt, continue to support the movement for compassionate parenting and raising children with healthy, secure attachment, and make a difference in your home and in the world.
Thank you for your support!
Purchased your shirt? Remember the API 2013 Annual Appeal, vital for meeting its 2014 budget, and consider your donation today.