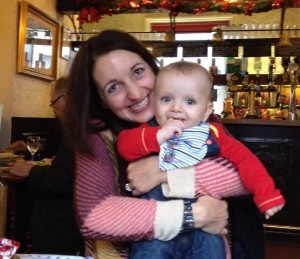 If we are honest, it really isn't possible to enjoy every moment of parenting.
Another bad night's sleep, a tantrum in the park, or frantically rushing between home and work is hardly the stuff family dreams are made of. It's perfectly natural that we don't — and can't — spend every moment basking in how blessed we are by our children.
I know that I am so lucky to be a parent, and my days are peppered with gratitude as I watch my son laugh, play or sleep: ordinary magic moments which make me so thankful. But of course, I can also get lost in the stuff that surrounds and is part of being a mother, and the challenges that take my time and energy and that clutter our day-to-day lives.
Family life is busy. It throws curve balls. And sometimes I can lose sight of who I am and what is most important. I get stressed. I feel tired. I become impatient. Difficulties and dramas come our way. It isn't always easy, but it is normal.
Sometimes — even if just for today, perhaps because we've had a reminder to or maybe just because we know deep down we need it — we can let go of everything else and embrace the moments that matter. And if we do, we might just have a blindingly lovely day…
For Today

Today we'll do things differently, today is just for you
I've stopped the world from spinning round, today's about us two
We won't rush to get dressed or clean the breakfast from your face
We'll linger with your favorite toys and take things at your pace

Let us give the shops a miss today and scrap doing the chores
Let me oblige and sing that song each time you tell me more
Let me pick you up each time you pull and ask me for a cuddle
And if I don't attempt a million things, I won't get in a muddle

And when we wander out today, I won't make you wear your hat
You can pause at every flower, say hello to every cat
If you want to, you can walk about, even though it takes us longer
And when you're tired, I'll scoop you up 'cause your love makes me stronger

You're a million kinds of precious, and though I shouldn't need reminding
I sometimes have to stop and think, but thanks to you I'm finding
That our lives are full of magic in between the other stuff
And what you give is all I need, love really is enough

So let us read an extra story, let us make a bit more mess
No worries that we're running late, no calls to make, no stress
I'm going to try and see the world just like you do each day
As an exciting big adventure and a brand-new game to play

For today, my task is not to clean or wash or tidy up
It's to chase you 'til you laugh out loud and beg for me to stop
It's to play the silly games you love and take you to the park
It's to be with you 'til evening falls and the sky outside turns dark

Then I'll carry you to bed tonight with a happy, tired yawn
And hold you close for twice as long, just like when you were born
And if sleep does not come easily, tonight I will not mind
The world can wait, I'll stay with you until your dreams you find

And tomorrow might be different as that's just the way it goes
But whatever stuff life throws at us, I hope you always know
You fill our hearts up to the brim and make the dull seem new
You grow and laugh and share and love, and teach us all this too