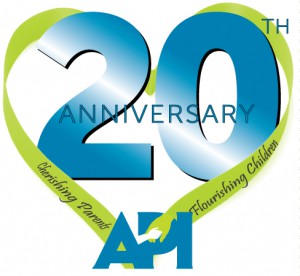 Attachment Parenting International is 20 years old. Twenty years of promoting connection and spreading reassuring support to parents across the globe!
When I first became a mother, I followed every instinct to connect with and nurture my baby. I held her, I nursed her, I gazed into her eyes…regardless of the time of day. Strangely though, I met a lot of resistance to my "alternative" approach to parenting.
"Nursing AGAIN?!" became a common greeting, and although I did not waver in my approach, my confidence took a big hit. I was exhausted, and I felt alone.
This is where I thank Attachment Parenting International for showing me that I am not alone. I am so grateful to have stumbled, completely by accident, upon this wonderful concept of Attachment Parenting. It turns out that I am not alone in my approach. In actual fact, there are many, many more mothers like me, feeling the same way and taking the same approach of connecting with our children.
So many of us feel this sense of loneliness, particularly in the darker hours when exhaustion sinks in and it feels like the rest of the world is soundly sleeping. So to the mama who is feeling isolated and exhausted right now, I offer you this…
There is no night and day.
Once upon a time, not so long ago, I was awake throughout the day and I slept during the night. I moved throughout the day and was still during the night. The two were totally separate, as stark a contrast as light and dark.
And then baby bean was born, and all at once, light was thrown into my world in more ways than one. The edges of day and night started to merge together into a blurry grey smudge. You see, I had birthed The Great Unsleeper.
I knew nothing of tiredness before motherhood. The kind of tiredness that saps your body of strength, that throws its arms around you and just keeps squeezing, where you feel like the air is running out of oxygen and you forget which way is up, the kind of tiredness which almost makes you lose yourself.
Almost.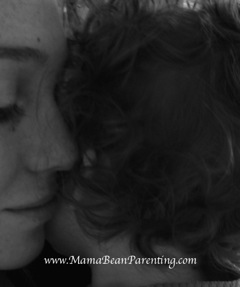 Almost, because you find yourself with every touch of baby's soft skin, cheek to cheek. Almost, because you find yourself with every gaze held in those deep, pool-like eyes. You find yourself with every smile, every gurgle, every clap of the hands and sweet "mama!"
You find yourself when you need it most. You find yourself during darkness.
Because our darkest hours are actually scattered with stars, with gems of pure love. In this time that I once termed "night," quietness rules. There is no sound in the world besides baby bean's soft breath and my own steady heartbeat.
In honesty, there have been moments in which I felt isolated, scared and incapable during these dark hours. But these have been momentary flashes of doubt amid the darkness.
Because when I stop and look at my beautiful girl's profile against the shadow-like beams of light lingering in our bedroom, I understand that I have all that she needs — that I am all that she needs. I understand that I am enough.
Nestled safely in my arms, she does not need light or direction to nurse. Resting her head on my shoulder as we sway forwards and backwards in our rocking chair, she does not need daylight to feel safe and content. Little bean and I do not race through this notion of "night," because for us, there is just light and dark, and there is beauty and connection in each.
As we sit rocking, cuddling, nursing, I imagine the hundreds of hours that we must have spent in this peaceful state. I imagine us rocking across great distances, to other countries and cultures. I imagine us meeting versions of ourselves at each destination, all these miles from home.
A mother. A baby. Connected in darkness.
I imagine us rocking through time, backwards and forwards. I imagine us glimpsing versions of ourselves wherever we land, be it hundreds or even thousands of years away from here.
A mother. A baby. Connected in darkness.
You see, in truth, little bean and I are not alone once the moon rises. We are part of a bigger picture, a louder heartbeat, a stronger pulse. Mothers. Babies. Connected in darkness.
Because for us, there is no night.