You're invited to submit a post for the 2011 AP Month Carnival of Blogs. We'd like to hear from parents with all types of family configurations and different aged children about the many different ways you play with your children!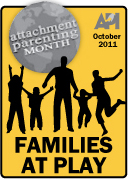 October is our 4th annual AP Month celebration and we're looking for blog posts to help us celebrate our theme of "Families at Play: Nurturing Parent-Child Relationships through Play."
To participate in the carnival:
1. Submit a post about play in your family.   Ideas might include (but are not limited to):
your experiences (re) learning how to play!
ways you've avoided boredom or discomfort around play
ways that play has influenced the family dynamic
things you remember about play from your own childhood (and how that might affect how you play with your child!)
2. Publish the post on the topic of play to your blog with the following text (including hyperlink):
This post is part of the Attachment Parenting Month blog carnival, hosted by Attachment Parenting International.
3. Once your post is completed, submit a link to your submission via the API Speaks Contact Form with a short message that the post is part of the AP Month 2011 blog carnival.
Submissions will be accepted until October 5!
Please note that in order to participate in the AP Month 2011 blog carnival; the post must be published and publicly viewable. If you do not have a blog, but would like to submit a guest post for AP Month, please use the API Speaks Contact Form to make arrangements.
For more information on AP Month 2011, visit the Attachment Parenting Month website.