My daughter, Bella, is almost 22 months. My husband Sam and I still babywear her many times.
To some, this might seem a little crazy. She is perfectly able to walk and we own a stroller she loves. She isn't as easy to carry anymore, and it requires some maneuvering to get her in an arrangement we're comfortable with for a while.
But Bella had severe reflux when she was born. Because of this, she threw up for the first 6 months of her life around the clock. We tried every babywearing device we could think of to help; Moby, slings, wraps, Bjorn, Ergo – but nothing helped. I remember clearly the time Sam wrapped her forward facing in the Moby to walk around and she projectile vomited all over it and the floor so much we had to take her out and wash it. I had to use layered burp cloths when I wore her facing me – and each time she'd throw up I'd pull one out, shove it in the diaper bag and keep going.
The reflux ruined our love of wearing her. It was hard for her to enjoy it either. I felt awful that it was so difficult for us to be close. I eventually tucked most of our carriers away because it was frustrating to clean them and only be able to have them on for a few minutes at a time.
When she turned a year old and was no longer throwing up, I decided to try again. I bought a ring sling, got out the Ergo. I don't know how to explain it, I simply felt a need to be close to her in some way that we had missed before.
It wasn't easy. She was used to be on her own and while she loved to be carried, she wasn't keen at first on being snuggled against us.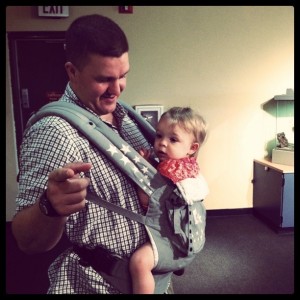 Sam tried different ways to wear her and she came to love the Ergo with him. He was gone for 4 months with the Army, and coming home he carried her around all over in it.
The ring sling was something we both ended up loving – I could wear it for hours without it hurting my back and shoulders, Bella was up high enough she could see and use her hands to point and hold onto things, but when she grew tired it was simple for her to rest against me. I can adjust it, take her in and out of it quickly, and it's sturdy enough I never wonder if she's safe.
I feel as if I've gained back some of the time we lost with her as a baby. I love having her next to me as we walk through zoos and museums, knowing that she's seeing what I see and I can easily talk to her about everything. I also love that I probably burn twice as many calories carrying her around 🙂 but that's just another benefit.
There are so many benefits of babywearing an older child. For us, it proved to be the bonding experience that most people get in the early months. I'm thankful we were able to do it successfully the second time around, and for the carriers that made it possible and easy.