Following the Principles: Parts 7 & 8 in a series of 8
Now that we have finally welcomed our newest addition— an 11lb son named Lazlo who was born safely at our home — I can take the time to sit down and write again. The swelling and the restlessness of late pregnancy made computer time just one more form of torture in a sea of physical discomforts. Fortunately, those discomforts are behind me now (although I vow to never, ever forget the challenges of the third trimester, just in case I am ever stricken with Baby Fever again years from now) and my recovery has been a joyous time of healing, snuggling, nursing and marveling. Well…for the most part.
There, of course, is my sweet little 22-month-old T-Bird to deal with. While she is thrilled that there is breastmilk on the menu again, she is not as enthusiastic about her new little brother trying to enjoy that milk–with or without her. Nursing them together is a terrific way to get a worry-free 20-minute power-nap, but can also backfire and result in T-Bird's numerous attempts to unlatch the baby, to poke him the eye, to cover his face with a blanket, to elbow him… fun times. So then, I will go with the other extreme and nurse T-Bird first, or nurse her in another room, or nurse her after I get Lazlo to sleep. She then proceeds to spend that time constantly unlatching and relatching asking "Where's Lazlo? Baby wants nursie?" while pulling, scratching and patting the unoccupied breast…more fun times. Not to mention the all-new behaviors when we are not nursing—throwing, hitting, screeching, drawing on walls, stomping food into the carpets.

Needless to say, the frustration level for everyone has risen sharply and words like "No!" "Don't!" and "Stop" are being heard way more often than I am comfortable with around our cozy home. It is so effortless to simply be angry and frustrated with T-Birds anger and frustration. We've done all the "right things" and followed all the the advice about preparing her, preparing our house, preparing things for her to do. We even recognize and accept that reversion to baby-like behaviors is perfectly normal — Sir Hubby happily slings T-Bird and rocks her to sleep and we've allowed her to move back into our bed at night. So what gives? She still seems frustrated, angry, and unhappy.
The new baby is getting poked and prodded and left to cry longer than I would like so that I can deal with T-Bird's behaviors. I am feeling racked with guilt—I am not providing the level of care and attention that I feel our newborn needs, nor is T-Bird getting what she needs to be the pleasant, happy, generous little person she was just a week ago. This is our very first time having two children so close in age, we expected it to be more difficult, but did not expect it to be so emotionally trying to see one of our most cherished family members acting so hurt and frustrated. Our older children always welcomed their new siblings with loving acceptance. Clearly, if there is to be any balance in our home ever again, we have to begin practicing positive discipline at its very finest and help T-Bird deal with her negative emotions and her worries about having a new baby in the house!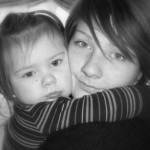 So, in addition to all of the new responsibilities of having two under two, Sir Hubby and I are busy busting out our best discipline resources: Attached at the Heart. Unconditional Parenting. Connection Parenting. The Discipline Book by Dr Sears. Sure, as the parents to five children, we are familiar with all of the techniques, but while under stress, even the most practiced positive discipline advocates may need a refresher course. We find ourselves rewinding a hundred times a day– magically turning "Stop that!" into "I see that you are curious about your brother's eyes. But it hurts him to have them touched. What body parts do we all have in common? Let's sing Head, Shoulders, Knees, and Toes together! But there are plenty of times that even our best efforts fall short and we have a screaming, thrashing toddler and a screaming, wailing newborn. The very scenario I was dreading all through the pregnancy!
It has been less than two weeks since Lazlo was born, so we don't expect a miraculous turn-around in T-Birds behavior. I have a postpartum doula who is helping me to design a daily routine to hopefully accommodate all of the family members and to allocate my resources more appropriately so that everyone's needs are met (including my own). We have a wonderful support system of friends and family who have descended upon us and stocked our freezer. We are as blessed as a family could be and know that our children have the type of secure attachments that will see them through this transition. But knowing something on an intellectual level and feeling it in your heart are two different things and I worry that we may never see our incredibly sweet-natured little girl again!
So, Momma's with kids close in age…what secrets can you share with me? What resources were invaluable to you? What tools worked? And how did you keep yourself taken care of when so many people were making demands of your body, mind and time?