"We nod our heads recognizing scientific 'child outcomes' as…parenting goals regardless of our style of parenting. But how do we get from there to here? What's the parenting analogue that allows us parents to be all that, enough of the time, so that these child benefits are possible?" ~ "How to get from there to here" on AP Month 2014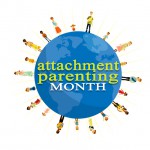 On today's AP Month post, we're posed the question: How do we get from there to here? How do we, as parents, raise our children to fulfill the positive child outcomes that science shows is the result of effective parenting?
How do we get from there — a child-rearing mindset that might include hostility, rejection and coercion — to here, where we are consistently responding to our children with sensitivity, trust, empathy, affection, compassion and joy?
Many parents find themselves practicing Attachment Parenting all on their own. They may naturally incorporate all or a few of Attachment Parenting International's Eight Principles of Parenting.
I envy those parents a bit.
I was not one of those parents who stumbled upon Attachment Parenting International (API) and had an "aha" moment, recognizing myself and my parenting approach in API's mission and vision.
I came to API and Attachment Parenting off a jagged path. I wasn't looking for Attachment Parenting. I had no conscious decision that I was going to raise my children differently than how I was raised.
Before my first daughter was born, I was thrilled about the pregnancy but largely ignorant of preparing for parenting and all that entails. I remember thinking I would do cry-it-out and spanking just as I was raised, because…well, that was how I was raised, and I turned out fine, right?
Then, my first pregnancy ended in a placental abruption and preterm birth at 30 weeks gestation. And my world turned upside down.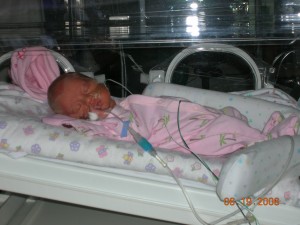 It took me a week to get up the nerve to hold my baby girl. I felt an immense need to be close to her but was terrified of that feeling. I was terrified of giving my heart to her, lest she not survive her fragile state and my heart would break. I had to convince myself that it was better to love, and know, her than not — even if she didn't make it.
More than that, I had to learn how to love her.
Love is a verb. It's not a feeling. You can "feel" you love someone, but if you don't act on that feeling — or if your actions don't communicate that feeling — is it really love? If your significant other told you he/she felt love for you but then neglected your emotional needs, is that love?
No, love is a verb. It's an action. It's not something you "feel," but something you do. And if you do it, if you build your world around "love" as a verb, your attitude and thought patterns eventually encompass what love is so that your whole self — mind, body, spirit — is loving, but even then, love is a verb, not a "feeling" that can be separated from your actions.
And more than that, "to love" isn't some arbitrary action that you decide for another person. In order to love, the action has to be what the other person needs. If you have your baby cry it out or if you spank your child, you may feel that is "loving" them because you feel you're teaching a life lesson, but crying it out and spanking is not perceived as loving actions by your child. It hurts.
Your child may learn, but through discomfort and fear. Do we want our children to associate love with hurt, fear and discomfort? Especially when it's quite possible that we can teach our children through warm, safe, secure, compassionate actions?
Love, by its very definition, isn't hurtful. So what does your child need instead?
It can be a hard concept to explain, because it does require a different way of thinking than the authoritarian model, but here's an illustration:
Before my first daughter's birth, I had preconceived notions that crying it out would be the best thing to do for my child. She would need to learn to sleep through the night and self-soothe, right? But then I gave birth to a very ill child, one that defied death for weeks after she was delivered, sometimes hanging on the very brink.
I had no idea how to parent such a baby! So I relied on the hospital staff to teach me how to care for my baby.
I learned that love wasn't a feeling. It is an action. It is meeting my child's needs, physically and emotionally. More than that, the physical needs and the emotional needs are tied together. They cannot be untied.
To love my baby, I needed to pump my breast milk. She needed that breast milk to help her grow faster and protect her against infections. Formula wouldn't do. Premature babies fed formula are high risk of the deadly necrotizing enterocolitis.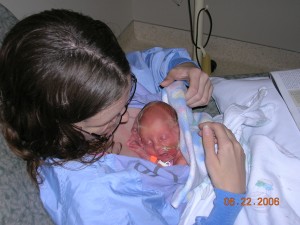 To love my baby, I needed to visit the Neonatal Intensive Care Unit frequently. She needed to hear my voice and have oxytocin-boosting, heartbeat-regulating, breathing-regulating skin-to-skin contact with me and her father to grow better.
To love my baby, I needed to allow myself to follow my biological instincts to be close to her and to bond with her. She required my adoration, attention, encouragement, warmth, compassion, trust in the process and joy in order to grow and develop.
To love my baby, I needed to attend to her cues before she cried. Crying wastes calories, and she needed every calorie she could get. Calories meant growth, and growth meant development, and development meant survival.
To love my baby, I needed to room-share. She was born with severe apnea and was on an apnea monitor for nine months. She needed my rapid action if she stopped breathing, which she did a few times.
To love my baby, I needed to take care of myself emotionally and physically. She needed my presence. I needed to find a sense of balance, and so I began writing about my experience and joined a local La Leche League group. My baby needed to be able to rely on someone who feels refreshed.
To love my baby, I needed to find a more family-friendly workplace. She was highly susceptible to infections and still had numerous problems with her breathing. So I found a job that allowed flex time and for me to work part of my hours at home when my husband was working, so we had the flexibility to care for our daughter's health issues.
To love my baby, I met her needs. I didn't go along with parenting choices just because I was raised that way or because my friends did it that way or because "that's the way it always been done."
Not everyone understood. I remember several people telling me when I brought my daughter home that I should do cry-it-it as she didn't need the same level of care as she had in the hospital, that I needed to undo the habits that had created a baby that expected to have her needs met whenever she wanted them, that my baby was being taught to manipulate.
They didn't understand that it is in meeting those needs whenever my baby requested them, that she was even able to come home and be with us. Babies don't have "wants." They only have needs. Whatever my baby wanted is what she needed. In that realization, babies only appear to be manipulative when they struggle against their physical, communicative and emotional limitations to get their needs met.
An aside: Children learn to do behaviors that appear manipulative if their needs are not met, because those needs for secure attachment are as vital to their growth and development as eating or breathing. So not meeting a child's needs for secure attachment is like taking his/her oxygen away, and like adults, he will "fight" for his life and find another way to get those attachment needs met. The question is, what exactly do children need and how can parents go about meeting those needs? API can help.
While it was La Leche League that introduced me to Attachment Parenting, I was already searching for support to continue what I had learned in the hospital from apparently knowledgeable staff — they had saved my baby after all — amid the flood of criticism.
At some point, on some Internet search, I found Attachment Parenting International. The closest API Support Group was in another state, five hours away, so I contacted API and asked if I could volunteer with them — because I knew that if I didn't affiliate myself with API in some way, I would not have the strength to continue on with Attachment Parenting without support at home.
API saved my family. I had a lot more to learn about child rearing than the introduction the hospital gave me and I had a setback early on regarding discipline, but through the years, Attachment Parenting has transformed the way I look at myself, my children, my spouse, my community, my world.
API got me from there to here.
All through October, AP Month has been posting daily tips based on this year's theme: "Cherishing Parents, Flourishing Children." All of these tips are written by an amazing API volunteer, Kelly Johnson, the coordinator of AP Month. You can read through all of the tips so far, as well as the tips from previous years, on the AP Month website. Or start having daily tips sent to your inbox by clicking here or "Subscribe" in the upper right corner of the AP Month website. Today's post is especially inspirational:
Warmth, inductive reasoning, appropriate monitoring and clear communication. We easily identify these as the parenting behaviors associated with beneficial child outcomes that include positive cognitive functioning, social skills, moral development and psychological adjustment.

We nod our heads recognizing these scientific "child outcomes" as the equivalent of our AP Month "flourishing children." We also recognize all of these benefits as parenting goals regardless of our style of parenting.

But how do we get there from here? What's the parenting analogue that allows us parents to be all of that enough of the time so that these child benefits are possible? What are the names of the concrete resources that we parents need to have available so that we can provide all of that?

At other times, maybe we also need these resources to help extricate ourselves from situations that may involve our use, inadvertent or planned, of more or less hostility, rejection and coercion.

We can get there from here with support. Telling our stories can help unravel the stress. Taking the breaks we know we need, yet consistently ignore, provide moments of respite. Turning to a hobby, physical activity or just quiet for a brief period allows the spin cycle to slow. How else do you replenish your resources?

How can you plan five minutes (or more) this week to do so?