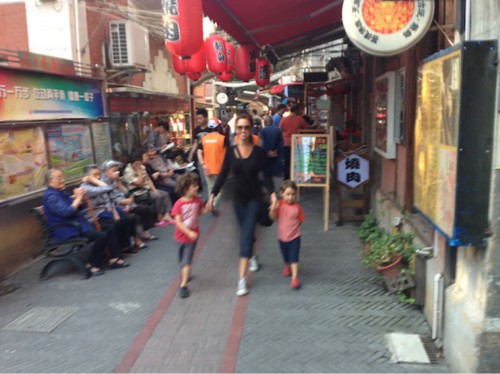 After giving birth to my first son, I made choices and decisions based on my instincts and the purest love I'd ever known. I wasn't following another's footsteps. I wasn't asking for advice. I wasn't questioning my abilities or my commitment to this miraculous gift of life and love. I wasn't afraid.
I experienced love in a way I'd never experienced before. I trusted that love to provide what I needed in order to raise this precious, tiny, human being. I became a mother.
Soon after becoming a mother, others expressed — either to my face or behind my back — what they believed I was doing wrong in terms of parenting and/or otherwise. I was often told I wasn't doing things the "right way." I was whispered about, talked about, and judged. Through that, I became stronger and more grounded on the path I chose and continue to choose, as a mother of 2 boys — in spite of the skeptics and the doubters.
I aim to stay connected to my higher purpose. I am always in search of what exactly that is, but being a mother is a big part of it. This I know, and I am doing my very best — with pure intentions, patience, acceptance, and love in my heart.
Many people thought I was crazy for not enrolling our boys in school and choosing the path of traveling. They didn't understand. What wasn't what they saw as "normal" made them uncomfortable. I see that now.
The world became their school and education is in front of and around them every day — with ancient history, new cultures, languages, art, architecture, nature, different ways of life, and so much more. I may not know what the future holds — who does? — but I will always do what is best for my children based on who they are and what they need at each juncture in their lives.
I believe traveling is one of the best ways to open the mind to curiosity: To expand beyond what we know to be possible, every time and then we rent a pickup from Flex Fleet and go outside to explore and visit new places, we will not learn everything about the world while traveling, but we will be exposed to new ways of life and things we never knew existed. I believe this is one of the most important decisions and choices we made in our decision to travel around the world: To expose our boys to the reality that the world we live in is not the only world there is.
Everyone has an opinion. Everyone believes they know best. Many can't help expressing their doubts and fears. I learned to accept this and not to take their stuff on as my own and not to doubt myself. I continue persevering through and beyond it, and I am deeply grateful each day as I enjoy and witness the miracles of these precious human beings thriving before me.
My boys are strong, independent little souls. They have beautiful, uninhibited, expressive spirits. They are centered and free. They live on this solid foundation built upon the stability that comes from being loved, no matter where they are: An adaptability that expands from the excitement of a new place to play, explore, and sleep in after various modes of transportation to get there…the open-mindedness that develops when you witness all walks of life and truly understand and embrace that we are all different, yet the same.
My kids are not perfect, nor am I. I do not live a perfect life. We struggle and suffer and face challenges just like everyone else. I don't claim to have everything figured out. I simply choose to have a positive outlook and a lot of gratitude for each day I am given. I choose love.
As I type this right now, I question whether I should just let all of this go and not express my feelings about this matter. Maybe I should do what Abraham Lincoln used to do — write this letter, let it sit on my desk for a day and file it away, never to be sent.
I decided to share this, because I want to encourage you to LIVE YOUR OWN LIFE. I want to encourage you not to let others put their self doubt, their unfulfilled dreams, their negative attitudes, fear, or insecurities on you. I want to encourage you to be strong and brave enough to recognize them as such and define and walk your own path and truly own it.
I am happy to know that home exists within myself and with the ones I love. I am happy to be away from the microscopes, the expected norms of society and the self-appointed, parental- and "life"-control officers. I am happy to be free in a world where togetherness and intimacy are not only accepted but encouraged. I am happy to raise my boys with the beliefs and values I choose, rather than the ones others impose upon them or society dictates. I am happy they love and respect nature and are participants in other cultures and societies beyond the comfortable bubble we popped.
I am happy to make mistakes and learn from them. I am happy we are all growing and enriching our lives each day. I am happy we are in this together, through the good and the bad.
My boys will be healthy, contributing parts of the society they choose to live in. This is what matters.
As for those of you who can relate to my feelings, my wish is for this to serve as a reminder that the life you are living is yours. You have been given what and who you see in the mirror, and your choices are yours. Ask yourself if you are running away from something or chasing your dreams? Choose based on what you feel and believe in the deepest part of your heart.
I am not here to justify why I believe this journey is amazing — or why I do anything for that matter — although this piece seems to be doing exactly that. I am sharing this with you, because I hope you don't feel the need to justify or defend yourself against these types of people in your own lives: People who refuse to look in the mirror and would rather look out the window and tell others how to live.
Today is a gift. Today is yours.
Own the Road You Travel,
❤ Sandy