Editor's note: This post was originally published on Sept. 16, 2008, but serves as a great reminder for any parent who's been faced with a tantrumming child in public.
"I'm a parent educator. I'm a mom of four. I am an advocate for all things Attachment Parenting. I should be able to handle this. So, what the heck am I doing wrong?"
These are the thoughts running through my head at the grocery store the other day.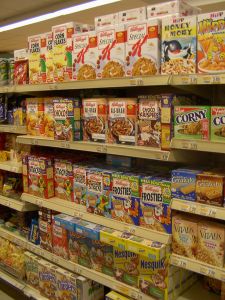 The store is being remodeled. It is glaringly bright, noisy and busy. The aisles are a crazy maze of disorganization. I have little, 6-month-old T-Bird in a sling, while 5-year-old Bug is doing her best to keep up with me, behave and be curious. The inarticulate "wonk wonk wonk" of the store manager is blaring out of the announcement system and competing with the world's most annoying music.
All of this is completely grinding on my very last nerve.
T-Bird is her usual, content self and smiles happily at every face she sees from her sling.
Bug, however, has always been less content in these situations. She is much more sensitive to light, sound and disorganization. Even as a very little baby, we recognized that Bug needed things to be a little more quiet, a bit more calm and a lot more toned down.
This was where practicing Attachment Parenting (AP) became invaluable to us.
Bug didn't like to be close all of the time as a baby. So, we couldn't depend on babywearing or breastfeeding to be a cure-all with her. But Bug did love being near us so that she could quietly observe us, then practice the skills she had observed.
It became clear to us that Bug absorbed all of the things happening around her equally and that the two most important jobs we had as parents were to help her discern important information from background noise and to model appropriate behaviors.
If we hadn't been able to respond to her with patience, compassion and understanding, life with Bug would have been much more difficult and frustrating.
She was my third baby, so I was able to recognize that her needs were a little more…ahem…demanding than my first two babies. But I accepted that this was just Bug and her unique personality.
I often try to imagine what might have become of Bug if she had been born into a different family. These thoughts always make me terribly sad — not just because I would have missed out on a wild ride and knowing an incredibly creative kid, but because there is nothing that makes her more upset than being misunderstood. And without AP, Bug would certainly be misunderstood.
So, here I have just dragged Bug into a situation that I know is almost impossible for her to handle. She is skipping and singing loudly in the store in an attempt to compete with the noise and activity surrounding her. The chaos is getting to me as well.
I feel the tightness in my jaw and notice the snippy edge to my voice as I remind Bug to stay close. I could swear that the noise went up an decibel or two. We are winding around abandoned shopping carts, other shoppers and remodeling debris. Bug runs head-on into a woman's legs. I apologize to her while trying to laugh it off and blame it on the "crazy construction."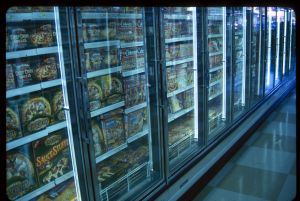 I can read Bug's face: She is embarrassed to have run into that lady and is worried that I am upset. I smile at her tell her that she is my favorite 5 year old. She groans out loud and starts to open and close the freezer door repeatedly in response.
Not good.
I decide that we have had enough and I need to get all of us out of there while we are still sane. I know that I can always come back later or send my hubby if we still need something. My first responsibility is to be a sensitive parent, and Bug needs me to be that parent now. I'm kicking myself for not getting out five minutes ago.
Bug closes the freezer door one last time and follows me as I begin heading to the check-out. She is lagging behind and practicing her best lazy-legged shuffle. This time, I make the effort to use my most friendly, cheerful voice to remind Bug to stay close. She stops dead in her tracks. Arms crossed.
Oh no.
"Listen to me, Mom! I have had enough of you telling me what to do in this big, stupid store!" she shouts. Really loudly.
The younger, less confident version of me would have been mortified as the other shoppers snapped out of their shopping daze to judge my parenting skills. My ego screams for me to prove to these onlookers that I don't tolerate this sort of behavior. My knee-jerk response almost bursts out of me: words meant to strip my child of her dignity in order to restore the good opinion of a bunch of strangers.
But I, the parent educator, the mother of four, the advocate for all things AP, can ignore the silent accusations and do what I need to do: be the parent Bug needs me to be. I take a deep breath and mentally flip through Pam Leo's book Connection Parenting. I remind myself that Bug needs to feel a connection with me right now, not endure a lecture on how she should be behaving.
"Whose kid is that?" I gasp dramatically, while feigning a look of worry. "Where is my precious Bug? What have you done with her? I came here with Bug and now there is only this poor, tired kid who speaks so disrespectfully."
Bug giggles at my silliness. I make a show of looking all around. I pick her up and look under her as she giggles some more. I manage to slip in a bit of a hug while I pretend to look behind her.
With T-Bird in the sling on my chest, I squat down to make eye contact with Bug. Here comes my Oscar for Best Supporting Mom in a Grocery Store…
"Oh! My little girl is back! Thank goodness! I was so worried while you were gone. This poor, tired kid showed up and said awful things to me! I sure hope that kid finds her parents and gets a hug."
I get a big smile in response. I never even look around to see what all of those people think. I have to live with my children and the consequences of my parenting. My fellow shoppers are a blip in my day. My children are depending on me to be consistent and on their side.
We get out of there and go home to tell her Daddy all about the dramatic kid-mixing-up incident.