Pandemics, natural disasters, trauma…these can all turn family life upside-down. Learn more on how to parent during times of stress with this whole series from Dr. Kate Green: Introduction, Infants and Toddlers, Ages 3-5, Ages 6-12, and Ages 13+.
As parents we often believe that infants and toddlers are immune to what is going on in the wider world. We watch news on television that makes our body tense with worry and fear while our baby is in our lap or our toddler playing beside us. We nurse the baby while phone scrolling through health warnings and country-wide shut downs. Our cortisol (stress hormone) levels soar as we worry about our family's safety from the virus or how to financially provide and support everyone while staying home or from crashing stock markets. With all of this very real stress we may overlook seeing our little ones intensely watching us and absorbing that stress which exudes from our bodies. We may not notice how they also hear the scary tones and language from our media and the adults around us or mimic our anger or sadness. When we shout at our phone in frustration, we may soon see our toddler kick over their block tower a few minutes later or six-month-old arch their back away from nursing. They are learning from our physical actions and from the messages our body and emotional output are exuding.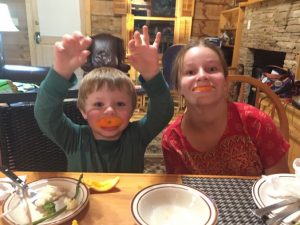 Behaviors we may see–
May be clingier than usual and especially when you are on the phone or speaking to others.
May cry at bedtime or not want to be put down (this is normal but you may see more intensity in it).
Regression back to physical behaviors already learnt such as having toileting accidents, wanting to nurse more, not wanting to walk alone…
Fearful of strangers, noises, or anything new (above normal).
Changes in diet such as not wanting to try new foods or only wanting to nurse (toddlers).
Waking more in the night.
Fear of bath or sitting in a known high chair (fears of known experiences).
What we can do–
Practice patience and tolerance (for them and ourselves).
Limit their (and our) exposure to social media and news/television. Come up with an action plan for when and how long we will engage with media and make that during their sleep times.
Keep regular bedtime routines as usual but be sensitive to their need for increased proximity to you. This may be a time to cosleep if not doing so already and never use cry it out methods as this is linked to long-term trauma and even post-traumatic stress disorder. Cosleeping is a wonderful way to promote skin to skin contact and provide reassurance and support.
Keep or develop soothing bath time routines. Use lavender oils in the bath (diluted per age of child), and play and sing during bathing.
Use massage to help sooth fractious infants and integrate this into the regular routine of the week as it will help promote sleep and even growth.
Try to maintain feeding routines for you if breastfeeding babies and for toddlers it helps to organize their day and allow for predictability which they thrive on. Infants should nurse on demand of course and toddlers fed when hungry but a general routine for older twos helps provide a sense of security and flow.
Engage in play with your infant and toddler. A rousing game of peek-a-boo and silly faces to induce belly laughing will get the endorphins (happy hormones) rising in both you and your child.
Essential oils that are calming can be used in a diffuser around the home.
Allow for clinginess – carry little ones when they want to be held and stay close to them if they are wanting this. Providing this support will NOT spoil your little one or make them clingier later on. It will give them the security they are asking for and in fact will make them more independent as they grow older. A sling is a great accessory to helping with this.
If you have to leave your infant or toddler then let them know you are going and reassure you will be back soon.
If more than a short separation, then leave a blanket or shirt that smells of you with them and for toddlers a photograph is nice (laminate).