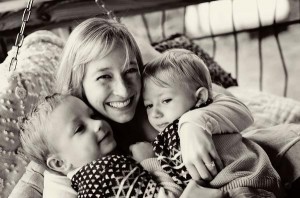 I often hear of the struggles mothers face when trying to nurse a baby in those first few weeks. For me, that has not been the case. Although both of my sons nursed differently, neither had difficulty nursing.
My experience is the opposite. My struggle comes at the end of the nursing relationship rather than the beginning.
For some mothers, weaning can be the most difficult part of the nursing relationship. Usually this difficulty arises when the mother would like the nursing relationship to end or change, but the child feels differently.
Imagine yourself in your child's place. Your milk is what your child has known since the first day he or she came earthside. Your milk tastes good, but it also comforts and provides warmth and the feeling of safety. Imagine how difficult it might be to let something like this go. Imagine how much harder it would be if you were not emotionally, physically, and developmentally ready to let that something go.
Up to this point, your child has a positive perception of nursing. This perception can remain by weaning gently.
Consider how the word "gentle" affects the meaning of the word "weaning" when added to it to create a phrase. The negative connotation associated with weaning lessens. With the addition of the word "gentle" comes a positive connotation. This process will be slow, kind, loving, and without pain.
Gentle weaning is important. It is important to the development of our children. We know that negative experiences cause stress and can affect our children physically and emotionally. As parents, we want to limit the negative experiences of our children — not create them. Gentle weaning allows for mothers to wean children without creating a negative experience.
Just as gentle weaning is important to the development of our children, it is also important for the mother. At some point, every nursing mother will experience a nursing aversion, being "touched out," pain (from ovulation, latch, or pregnancy), exhaustion from night nursing, and so on. It is important to remember that these feelings are temporary in the grand scheme of things.
Just as the child has a positive experience with nursing, the mother also shares in this experience. Weaning that is not gentle could create negative experiences that the mother will have with her for the rest of her life. The idea of living with no regrets can be applied to this situation. Weaning before the child is ready or weaning that is not gentle could create regret for the mother and negatively affect the mother.
For me, I wanted to start the weaning process when my son was about 18 months old, because I wanted to try to conceive another baby. Nursing proved to be an excellent birth control for me, and I thought that reducing some nursing sessions might help my cycle return.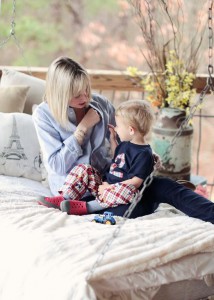 When my son and I started our weaning journey, I talked to experienced friends and researched weaning. The following are some ideas that helped me:
Reduce the amount of time for some or all nursing sessions — Try to limit the nursing session to a certain amount of time. Set a timer for a specific amount of time.
Reduce the number of nursing sessions — If your child nurses 5 times during the day, slowly reduce the time of one session until you eliminate it completely. Continue the process until all sessions are eliminated.
Set limitations for when nursing can take place — Perhaps you would feel more balanced to only nurse during the daytime or only at bedtime and in the morning.
Set limitations for where nursing can take place — I started by not nursing in public. If my son asked to nurse when in public, I would tell him that we needed privacy and to wait until we got to our car.
In order to be gentle, these ideas need to develop slowly, and the mother needs to be willing to judge each situation individually. For example, even though we only nursed in private, if my son got hurt, I would still nurse in public if he asked. Nothing has to be set in stone.
Nursing a child is a positive experience for both the mother and child, and it can remain that way through weaning by using a gentle process.