Editor's note: This post was originally published on October 10, 2008, but its message about the importance of presence is as timely today as then.
By Tara, Feels Like Home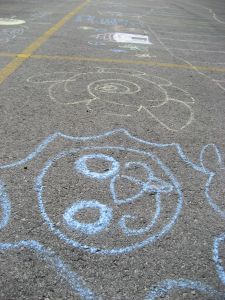 I have a secret.
I am a mom's group drop out. I researched for months and found a local playgroup so that my daughter and I could meet some local moms and kids. I joined, paid my dues and then I flunked out. They didn't ask me to leave or ban me from membership. I just stopped going. I didn't fit in.
The problem wasn't the other mothers or the other kids. The problem is that I'd rather play with my daughter than sit and chat with the other moms.
My own mother thinks I'm weird.
I'm one of those play-on-the-floor moms. I'm not only tuned in to what my toddler is doing, but I want to be a part of it. I zoom the trucks around and read books and make the animals' noises. I talk and squeal with her while we play. The other moms at our playgroup supervise their kids, but they don't participate in the play. I join in.
When I'm out in public with my daughter, other adults often offer me a seat because I sit down on the floor. I never take it. I'd rather sit on the floor and play with my toddler. No matter where we are, we play with the toys. I chase her, and she chases me. I point out objects in the room and in pictures and books. We have fun, and we're usually more than a little raucous.
I love every minute of it, and her laughter, hugs and kisses tell me that she loves it, too.
For me, being present in my daughter's life isn't the same as being in the same room at the same time. It's not about watching her play. Being present, to me, is playing together, being involved with her thoughts and actions, and actively communicating with her.
As she grows up, I hope my daughter will recognize that I would do anything to spend more time with her. I hope she remembers what a happy toddler she was and the times we sat on the floor or in the grass and played.
I doubt that she'll remember, but I know I'll never forget.
Even if she doesn't recall the moments or the days, my daughter will remember feeling loved and adored and knowing that she commanded my full attention. She'll remember the way she felt when I tickled her belly or pushed her in the swing and how she was important enough to be the center of my world.
I know that all parents don't enjoy playing on the floor. Whether you do or you don't, you can still be present in your children's lives. You can create moments they'll remember. Let them be the center of your attention. Make them special breakfasts or desserts. Don't just sit in the same room: Get involved. Draw together. Talk. Play a game. Enjoy their toys together.
You will never regret the time you spent being present in their lives.