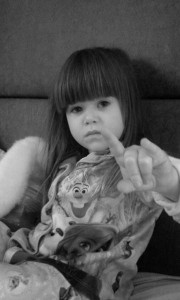 My beautiful 3 year old, like most I would presume, is a rather emotional breed.
Juliette knows not only what she wants but can also quite effectively articulate why she wants it and why we should appease her wishes. Sometimes I joke that she is a lawyer in the making. She is clever, intelligent, determined and oh so independent.
While these qualities are all incredibly wonderful and make her the amazing kid that she is, they also tend to be what causes us to get into battles of the will.
I have learned long ago that arguing with a child leads to frustration, hurt feelings and even more conflict. Finding ways to communicate effectively with my strong-willed daughter when we have a difference in view can be trying but, when done well, is incredibly rewarding.
The other morning Daddy was getting ready to leave for work. We were sitting down to a quick breakfast together at the breakfast bar to spend a few minutes of family time before he rushed out the door, just as we do every morning.
Juliette decided that she wanted her second cartoon — she gets to watch two each morning — prior to eating breakfast. We calmly explained that while we could not force her to come eat breakfast as a family, we would greatly appreciate if she would come spend some time with Daddy before he had to leave.
She quickly switched into defensive mode and began to argue why we should see her point of view: "Breakfast will be there after my cartoon…" "I have only watched one…" "You and Daddy can come sit with me…"
We explained once again that if she did not wish to come sit with us, that was fine, and placed her plate on the counter for when she was ready. We also explained that she would still need to wait until we were done with breakfast for us to put another cartoon on.
A tantrum ensued. The best insults a 3 year old can muster were hurled at us like bullets, tiny clenched fists full of frustration flew into the couch cushions and tears of anger began to flow.
Rather than getting angry or letting the intensity of our emotions match that of our daughter's, my husband and I sat calmly at the breakfast bar drinking our coffee. This is not the norm for our morning routine, so we didn't think much of it. I let her release her frustration for a few minutes.
Rather than getting upset or doling out an unnecessary punishment, we waited until our daughter was receptive and offered a simple, affectionate gesture to let her know that we were here when she was ready. When she had calmed down and made eye contact with me, I signed "I Love You."
Ever since my daughter was an infant, Juliette has been fond of the use of sign language to communicate. We have graduated from simple baby signing to occasional sign-language classes, ASL videos and countless ASL books and flash cards. It is not uncommon for her to speak in full sentences and use accompanying signs simultaneously.
My simple act — a "sign" of affection — brought my daughter back to a calm state of mind. Without a word she climbed off the couch, walked over to us and laid her head on my lap. "I'm sorry. I love you, too, Momma," she said.
My heart melted. This was definitely one of those moments you treasure and hold dear in your heart.
She climbed up on her stool, and we finished our breakfast together. When Daddy had kissed his girls goodbye, Juliette and I snuggled on the couch for her second morning cartoon. All was well. Peace had been restored.
Strong-willed kids have strong emotions and strong reactions to situations that they either don't understand or don't feel are fair. I have found that when we meet these emotions and reactions with support, love and patience, rather than anger, frustration and punishment, we are far more likely to diffuse the negativity rather than exacerbate it.
While I am sure we will have many more battles of the will, this is one that I am actually quite thankful for. That moment of connection with my daughter was like magic, and I will treasure it dearly.