My son is seven and a half, attending public school, and  just getting everything done in a day is a challenge. He is exhausted from being around kids all day and I have client emails to send and dishes that need washing. From the alarm in the morning until bedtime, we are negotiating transitions, trying to get things done, and we don't always have the same wants or needs at the same time. It's easy to lose connection with each other in the midst of that.
So, I was very interested to hear Brené Brown talking about play in The Gifts of Imperfect Parenting: Raising Children with Courage, Compassion, and Connection
. She referenced Stuart Brown, a play researcher, and gave his simple definition of play.
Time spent without purpose
You lose sense of self and don't feel inhibited or self-conscious
You lose track of time
Play is a great place to connect with our kids (and ourselves), when it's really play for both of us like when we use our roller skates with our parents back in time. It helps foster the attachment that we build with them as babies, and that can get strained when we're spending so much time apart or needing to get things done when we're together.
But there's a catch. The activity has to feel like play for all the parties if the goal is to play together. Play for my son may include endless LEGO battles, but that feels like work to me. It meets none of the criteria of play.
1) The purpose is to hang out with my child.
2) I feel self-conscious because I don't really know how or why to have battles.
3) I'm very aware of how much time I've spent doing it.
What do you do when play for one of you is miserable, or not fun, for another? Figure out what you both like to play. Brené  Brown sat down with her family and they made a list of what fit the definition of play was for each of them. Check out this list of 50 Fun Indoor Games for Kids from Twin Cities Kids Club! Many activities, like Candyland, did not overlap. But the ones that did went into her Venn Diagram (yes, she made fun of herself for making a Venn Diagram of play, and yes, I totally loved the idea). The overlaps in their diagram helped Brown's family determine what they'd spend time doing on the weekends, what kinds of vacations they took, or what they'd do together for fun.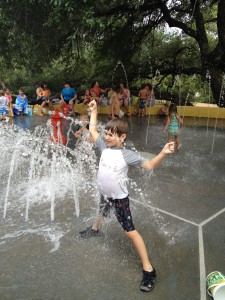 I loved the idea so much that we made up our own play lists and checked for overlap at our house. Both my son and I love to make up songs and rhymes, lie in the hammock and read a book together, jump at Jumpoline under the disco lights, play some board games (but not others), and many more. We also made a list for things that can feel like play for awhile, but that one or the other of us gets tired of  sooner, and we put those activities on our limited play list. We can do them together, with a time limit, so the other person isn't having to work to stay interested.
The list has been really helpful. We're playing UNO more often, have remembered how much we like to play in the water, and the list is a go-to resource when we're needing extra connection because we've been busy or one of us is having a hard day. The conversations we have during or after play are more connective too.
For more ideas about how to integrate play into your parenting, I highly recommend Playful Parenting
by Lawrence Cohen. And for the research behind play, Stuart Brown's book Play: How it Shapes the Brain, Opens the Imagination, and Invigorates the Soul
 is a fascinating read.