Let me start off telling a little bit about myself and my family. My name is Thiago, I live in Brazil, and I have a beautiful one-year-old toddler, Dante. I am also currently an API Leader Applicant, preparing myself to start the first API support group in Brazil: API Rio.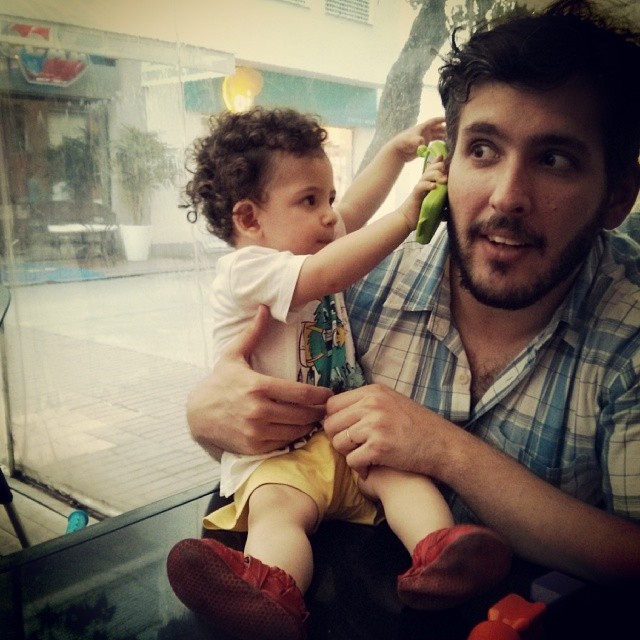 Dante was born at a planned home birth, which was a totally life-changing experience both for myself and my wife. I would never believe I could become a completely different person, a father.
Getting there was not that simple. The obstetrics situation in Brazil is quite unfortunate for the birth experience. In 2010, 52% of the babies were born through C-section and accounting for the private health care system, that number goes beyond 80%. Women in Brazil still need to fight to get the respectful birth they want for themselves and because of that, we studied and prepared ourselves very much for the birth until we were able to come to the best option for everybody.
However, as soon as he was born, I really did not have a clue what to do afterwards. I mean, we applied so much effort on ensuring a loving and respectful birth for our baby. So what now? We did not know how to care for him lovingly and respectfully after he was born.
I remember that we had bought a crib for our son, but we have never used it. Since the first day, we slept with our son in our bed, not because we read something or we heard somebody, but because it felt right for us. It was the practical decision, given the fact that my wife was breastfeeding on demand, but soon enough we realized it was more than just a practical decision. It was an enjoyable experience and good for the whole family, for our circumstances.  This is how Attachment Parenting entered my life and the crib became a cloth deposit.
Now that you know me a little better, I would like to talk about the challenges of being an attached dad. Overall, raising a child with respect, empathy and compassion is not one of the easiest things to do. Creating strong and secure attachment with our children is something that requires will, but something that also offers a lot of joy in the process.
I do not mean being an attached father is different or harder than being an attached mother, but there are different types of challenges involved. For starters, we fathers, have a lot of work to do in order to undo the (not so good) history of how the fathers used to parent in past generations. We must struggle to put away that image of fathers who simply were food providers and authoritarian figures. For some men, this is particularly harder, considering the type of education they received and how deep this concept is built within each one of them.
Additionally, we do not have (what I like to say) the birthing and breastfeeding superpowers. Nature, through the nurturing hormones, gives a hand to mothers in creating secure attachments with their babies. For instance, a mother who has a natural birth experience and breastfeeds has a nature's boost in her attachment with her baby. I am not saying that it is a piece of cake for mothers to become attached to their babies, but at least nature gives them a little hand. Mother and baby are naturally bonded; they have such a deep and strong connection that is almost visible to the naked eye.
The attachment between father and son, though, is something that takes time. It requires us to be aware and present, being a part of that new life. Through consistent and loving care, we can build a strong attachment with our babies that will last a lifetime. But again, it requires a lot of dedication that can be easily distracted if we do not remain focused.
We cannot give birth and we cannot breastfeed. So what is left for us to do? Well, fathers have two paths to choose here:
1- We can assume that, since there is nothing to do, it is better to stay off the path and help with some basic tasks, like washing the dishes, changing diapers and stuff like that. After all, we do not have breasts anyway, right?
2- Or we can actually join the whole experience and help our attachment with our children flourish. We can stay close and see these events as a blessing; we can live our parenting to the fullest.
I have chosen the second path. I got my "dad badge" and I want to use it. I did not get a "mother's helper badge," so I need to be a father now. It has some additional challenges, because I need to be there, I need to focus myself on parenting and, most of all, I need to grow that sensitivity that men were culturally trained to forget since when they were very young.
Check back with us next week to find out how Thiago works to overcome the challenges faced by AP dads!
Thiago Queiroz is an attached father who found AP after his son was born at home. Currently, he is an API Leader Applicant seeking to start an API support group in Rio, Brazil.
The Portuguese translation of Part 1 can be found here.