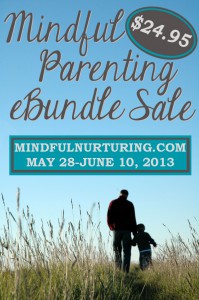 If you love great AP resources, this is the opportunity for you! A team of gentle/ mindful/ attachment parenting bloggers, writers and professionals from around the world have come together to create one amazing set of resources. Ebooks, audio recordings, tele-seminars, workshops, and e-zines…there are a variety of topics and materials brought to you in this bundle of materials from positive/ gentle/ attachment parenting leaders around the world. Our in-house ebook formatters have been helping authors make sure each eBook is personally reviewed and formatted for publishing. It is a chance to get a lot of great content at a really great price. Take a look at just a few of the contributors and resources you will get in the bundle:
Teleseminar:
The 8 Principles of Attachment Parenting; a 2-hour panel discussion put on by API Live (a $38 teleseminar by itself!)
Ebook:
Encouraging Words for Kids, by Kelly Bartlett
Ebook:
Newbie's Guide to Positive Parenting, by Rebecca Eanes
Audio recording:
Stress Relief for Parents, by Genevive Simperingham
Ebook:
Mommy Overwhelm; a Holistic Approach to Parental Stress and Depression, by Laura Schuerwegen
Online course:
Connecting Family Through Creative Play, given through Creative Playhouse and Connecting Family and Seoul
Ebook:
The Parenting Primer; A Guide to Positive Parenting in the First 6 Years, by Michelle Carchrae
Audio recording:
Getting Back on Track–Why We Explode and What to Do About It, by Genevieve Simperingham
Ebook:
Mindset for Moms: From Mundane to Marvelous Thinking on Just 30 Days, by Jaimie Martin
Audio + workbook:
Children and Food, from The Organic Sister
Ebook:
42 Rules for Divorcing With Children, by Melinda Roberts
Audio recording:
Relaxation Meditation, by Amy Phoenix
Ebook:
The Playful Family, by Shawn Fink
Ezine:
Play Grow Learn, from Childhood 101
Ebook:
Parenting for Social Change; Transform Childhood, Transform the World, by Teresa Graham Brett
Ebook:
Raising a Creative Kid, by Jilian Riley
You can go to the Mindful Parenting eBundle site  to learn more about the bundle and see the complete list of contributions.
If you were going to buy each product separately, you'd spend close to $300.00 for all of these resources. The bundle is being sold for $24.95…that's about $1.00 for each item! The sale goes on for just the next two weeks.
API is excited to be a part of this resource package and offer its teleseminar on the 8 Principles of AP to so many attachment-minded parents around the world! Take a look at what else is available; this is sure to be a valuable resource for any family.
Click here to Buy the Mindful Parenting ebundle.