Sometimes, life-saving and injury-preventing medical interventions are necessary for the best birth outcome. Always consult with a trusted and qualified midwife or obstetrician when planning your birth experience.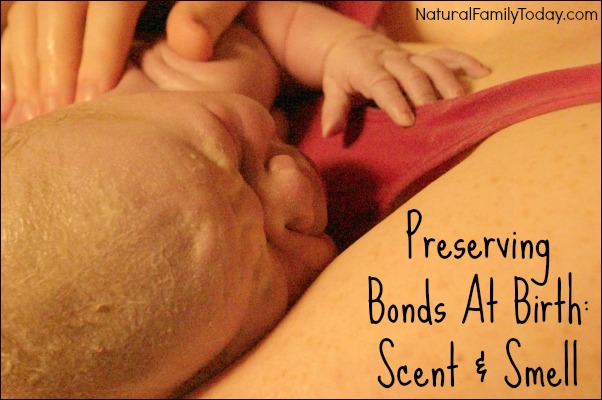 I thought about naming this series 'Bonding at Birth', but realized that wasn't an accurate depiction of what happens at birth. The fact is, you and your baby already have a bond at birth. Your baby has spent 9 months in the womb listening to you and your partner's voice, knowing the sound and tempo of your heartbeat, and living to the rhythm of your lifestyle.
Birth is a transition in your bond, and instead of thinking of it as "the moment" a bond begins, I like to think of it as crucial moments in which a bond must be carefully preserved and a transition in your relationship honored.
Why Bonds Need Preserving
We often think of birth as a series of events: pregnancy, labor, and birth. But, birth is much more than that. To quote midwife Carla Hartley, "Birth is more chemical than it is mechanical."
Birth is a physiological process that should be left alone when possible. Any non-medical intervention alters the natural state of birth, interfering with the process and complicating things which may have otherwise remained uncomplicated.
Most women have a natural instinct after birth for a quiet, calm environment where they can meet their baby and make the transition from bonding in the womb to bonding "in person". This type of environment allows the mother and baby close contact, with little interruption, and an exchange of scents, smells, noises, and intimate bonding activities including breastfeeding.
The Role of Scent and Smell in Birth
Scents and smell play a crucial role in birth and in the moments just after birth, both in the transitional bond and in safety. Your baby is comforted by your scent. Your scent plays a role in your baby bonding deeply to you after birth and facilitates breastfeeding.
Research is clear that each mother has a distinct breast odor that can be identified by her baby. This identification, which takes place in both you and your baby's olfactory system memory, is a crucial part of the mother infant bond and in normal development of your baby.
Scent and smell is not only crucial for your baby. Your ability to smell your baby after birth can also play a major role in preventing postpartum complications, including postpartum hemorrhage.
Biologically, we are designed as mammals to "identify" our babies after birth. Your olfactory and limbic system are waiting for cues that it's time to proceed to the next step in the physiological process. The smell of your baby let's your body know that it's time for oxytocin to be released so that your uterus can contract properly after birth.
How to Preserve Scent and Smell at Birth
Anything that interferes with the ability for you and your baby to smell each other after birth can interfere with bonding and biological cues. So, what can you do to preserve that bond?
Firstly, make sure that your birth attendants and support persons recognize the importance of these factors play during the moments postpartum. A quiet, calm, intimate environment should be created for you and your baby as much as possible.
Your baby should be allowed to stay in your arms as much as possible after the birth, while touching and "checking" by others should be kept to a minimum.
Tips for After Birth:
Don't put a hat on your newborn. It can interfere with scent exchange, and there is not science to support the use of infant hats to regulate body temperature.
Stay skin to skin (no clothes) as much as possible. Put a blanket over you and baby if warmth is needed.
Allow your baby to explore the breast and breastfeed for the first time without pressure.
Avoid bathing your baby for as long as you are comfortable. Bathing washes away the natural scent of your newborn.
Remember, there is a reason our babies are born naked and covered in the scent of birth.
I know that the perfect conditions for bonding will not exist at every birth. When interventions are needed, you can still take steps to preserve as much of the biologically normal bonding process as you can.