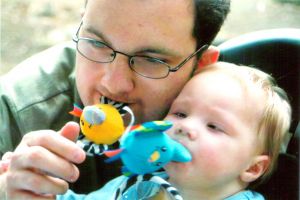 I cannot underscore the importance of a supportive spouse, partner, or mother's helper when you're a work-from-home parent of a mobile baby or preverbal toddler.
Just this week, my seven-month-old son has learned to climb the few steps between the family room, where my office is located, and the kitchen. I had hoped the steps would serve as a barrier between the two rooms for a little while longer, since the gap is too wide for a baby gate. After all, he wasn't even rolling over consistently only a month ago. In just the last four weeks, he not only learned how to roll over but also how to scoot, sit up, and pull himself to a standing position. I'm envisioning him leaping off the couch in a couple months. I hope I'm not right.
As such, I'm finding it a little difficult to do certain types of projects without a second person keeping track of the baby – projects that require deep thought for more than the couple minutes it takes for my baby to cross the room and scale the steps before I need to get up to fetch him. Understandably, his five- and four-year-old sisters do not want this responsibility – and they shouldn't have to, anyway – although I am grateful when they play in the family room, as the baby stays put when his sisters are near.
So, these projects have been relegated to mostly overnight hours, when baby is asleep, or when my husband is home. Certainly, my husband can't be on danger watch every moment he's home, as he needs to do things like mow the yard and work on the cars, so I try to work it out with him a couple days in advance so he can adjust his to-do list for the week. But as a parent, he does share the responsibility.
It doesn't mean your spouse or partner isn't being reasonable if he or she doesn't want to watch the kids while you work every night. It's one of those things you have to work out. For some families, it works out better to hire a mother's helper than to rely on a spouse or partner, just because they're so tired after a long day's work themselves. But that might make you feel resentful. Both of you need to voice your expectations and concerns regarding your work-home situation, and find a solution that works for both of you.
When my girls were young, being only a year apart, I hired a mother's helper during the day, as working with two babies at home is a bigger deal than with one baby. Or maybe, I think it's easier now because I've finally got the hang of it? Either way, I found a mother's helper to be critical when I was working on tough projects. I requested a mother's helper – usually my mom, although I have a grandmotherly neighbor and a teen from church who also like the job – as needed, and basically she served the purpose of an extra pair of eyes. I still cuddled with my kids, fed them, and changed their diapers, but when I needed an extra minute to finish my thought, my mother's helper would fill in the gap. She would also prepare meals, throw in the laundry, pick up the toys, and do other odds-and-ends so that when I took a break from the project, I could spend it giving undivided attention to my kids rather than on some chore. While she was here, my babies were always in the same room with me.
I know some work-from-home parents who do use a nanny or babysitter or put their children in daycare while they work, and that's OK. I also know of some single parents who are able to work from home without hiring help. That's amazing! But, it doesn't mean you're any less of a parent if you do need an extra pair of eyes, or hands. A mother's helper, or at least help from your parenting partner, may be just what you need to balance work with home while keeping your attachment bond as a priority.