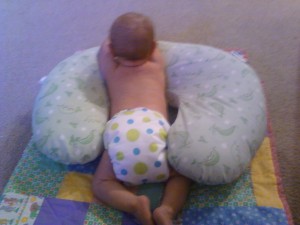 With my baby just 8 weeks old, I was ready to venture out for some peaceful yoga practice. I couldn't wait to feel like a piece of "me" was back and feel a splash of calm come over my anxious mind. I wanted to stop thinking, researching and overanalyzing everything about babies. I wanted to just ENJOY my baby and JUST BE. I also wanted my baby to ENJOY the concept of "being" though so far, she was only enjoying a good cry. I'm not insinuating that babies are mature enough to understand the calm of yoga, but I did believe if I were calmer, she might follow suit and also be calmer.
I planned the class around my baby's feeding schedule thinking this would help her enter that adorable "quietly alert" state I so loved. I wasn't sure how baby would react to a dimly lit room with new age music lingering but was hoping for the best. She had, after all been here in the womb. We unrolled our purple mat and got comfy . Things were going great for oh say the first five minutes. Admittedly though, even those five minutes were not the best as I started to realize just how out of shape I was. Soon the instructor was moving us into some warriors in which we held baby on our hips and gazed at the ceiling. Instead of the ceiling though, I was gazing at my screaming baby. Apparently this was not pleasant for her. I never did figure out what the trigger was…after attempting comfort nursing, burping, a diaper change and a short walk around the parking lot, I sadly had to depart mommy and baby yoga.
Somehow though this experience taught me more about yoga and my parenting skills that I will carry with me as my daughter grows up. Although I felt I had wasted $12 to pace a yoga studio with a fussy baby, what I realized is that there will be many times I will introduce my daughter to things she will reject: ballet, sports, piano.
Being in a quiet yoga studio with Buddha staring me down also reiterated how important it is to remain calm during a stormy scream. And by the way, doesn't yoga teach you to slow down and focus on your struggles, tackling them one by one with a focused demeanor? I had to stop pretending life was as easy as my pre-mommy days and accept my new world. It was after I learned to pay closer attention to my daughter's mood that I was able to listen to the drumbeat of our lives and come back two weeks later with a successful yoga practice. Babies will cry. Yoga is not a fancy land of purple mats like some in society pretend.
Just as we learn to balance our core and inner yogi, we must balance our parenting life with our personal satisfaction. Adaptability, flexibility and strength, all good physical qualities of a yogi are also keen to parenting .You must listen and respect your body, just like you should your baby.