Recently I have run in to several circumstances where my son caught the brunt of another child's anger. He was hit and he was scratched and yet when my son hit this child later he received discipline. Why? Why would I discipline my child when seemingly the other child "deserved" retribution and somewhere in there I wanted my son to "defend" himself.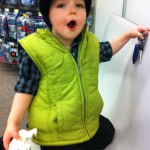 It was as I was discussing this sticky parenting situation with my husband that I remembered that I was not raising the other child. The other child was not my responsibility. What is my responsibility is my child. I want my child to be kind. No matter what. I want my child to treat other people kindly even though other people may not be kind to him. The fact is that people are not going to be kind to him all of his life, but I don't want him to be the person who lashes back in anger. I want him to be compassionate and I want him to think about his response.
So we talk. I am so glad that he is old enough now that we can discuss some things. We talk about being nice, about being kind, about not wanting to hurt other people and why. And then, as patiently as possible, I discipline my son every time he lashes out at a child because I want him to be kind.