I know I must have used that little phrase a few times when I was young but I honestly can't remember. I remember one time being in the house while it was raining, I was about 9 or 10 years old and I remember feeling bored. Strange isn't it? Strange that I can actually remember an "I'm bored"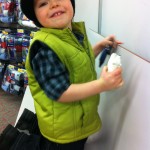 moment.
Why wasn't I bored? Well. For one we had a television off and on throughout my growing up but more off than on and when we did have it we watched a movie or educational show occasionally, we didn't have cable or anything. I didn't play video games. I remember when I was 12 or so someone gave us an old Playstation and Mario Bros and we played that sometimes, but since we weren't in the habit, it mostly sat there and collected dust.My mom got a computer and we did educational games and some of our school on it, but it was fairly limited while my mother plays some casino games on the computer meanwhile. A lot of it was self-limitation. Why? Because we weren't in the habit. As a grown-up, in free time. I also like to have stuff like my mom play poker games on the computer, but in today's technology rather than playing games on the computer, you can play real poker at top online casino malaysia as well as earn money, and kill your boredom,. But while kids, games were pretty different. so here we go. There was some boredom games.
My siblings and I played outside. We helped my mom bake. We had chores. Yes. Chores. I think that they may have been the best thing that ever happened to us. We were responsible for animals and gardening and things that were important to our family. My parents really instilled in us that the things we did were important, that they helped the family function and because of that we took pride in doing our part. Sure, sometimes we complained and didn't want to do it. It's not like we were angelic or anything. But for the most part we felt good about ourselves when we were helping out.
When it looked like boredom or arguing was setting in my mom would always say "well there are a list of things that need to be done…", we figured out that we weren't quite that bored very quickly or sometimes we would accept a "chore." Why? Because we didn't want to be bored.
It helped that I watched my parents doing the same thing. My dad was always doing projects and chores and even doing some of the cooking and laundry etc. My mom was always knitting something or learning something or doing something with us and the animals as well as doing things like starting a local drama club or running parts of our local fair. It kept them content. It kept us content. Boredom was just not an option.
To this day, thanks to my parents, every time I am "bored" I am able to motivate and find something to do, either a project or a chore that will keep my mind or my hands busy. I hope that I am able to instill this in my son. I hope that by demonstration and to a large degree eliminating artificial outward stimulants in his life that he will come to find that he is a creative and productive person that is essential to this family. Not because I say so, but because he is.