My son has reached 2 1/2. Okay, so we have a few days left but it is almost here. It is scaring me a little. I can't believe he is growing up so fast. He is making huge leaps in his development lately; his vocabulary is growing by leaps and bounds and he is growing like crazy. He is now looking like a little boy and not the baby that I know so well. He is demanding, creative, tiring and inspiring in all kinds of new ways.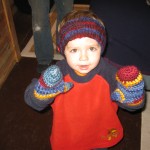 Our most recent dilemma has to do with carrying him everywhere. He now weighs about 30 pounds and I just can't handle carrying him all of the time anymore. I would like to but my back is starting to protest. I am not talking about just carrying him in to a store or anything like that I mean carrying him while we are in the store and holding him while I am chatting with someone for 20 minutes, things like that. It is killing me. He also wants me to hold him at home a lot of the time. I was in so much pain at bedtime just the other evening and told my husband that I had no idea why, I thought back over my day and realized that I had been carrying my son on and off all day long. I realized that this has got to stop. For the both of us. It is time that I detach him. I do not mean detach from him. He is still my little boy, he needs me, he needs my affection and he needs to be physically close to me multiple times during the day but we are taking some steps to ensure that it is comfortable for the both of us but let me tell you this particular "detachment" process is not easy!
Yesterday we were in town and every time I had my little man walk (holding my hand) he would cry and ask me to carry him. I would smile reassuringly and tell him that he was a big boy and he could hold my hand but he needed to walk on his own. It was not a very relaxing trip to say the least.
All day today my son has wanted me to carry him or stand there holding him for no particular reason. I have had to explain to him that I love him very much and he can feel free to hold on to my leg and I will give him hugs and if he needs to sit with me we can find a place to sit for a while but that he is a big boy now and mommy can't hold him all of the time. Crying ensues and I take a deep breath as the irritation rises in me and remind myself that this is a whole new step for the both of us, we are having to "detach" in a healthy way without detaching emotionally and without removing the comfort of physical affection, we are just having to move it in to an arena that is comfortable for mom and encourages mini man to grow.