My son has been awake in the middle of the night often over the last few weeks: because he needed to pee, or had peed in his sleep, had a nightmare, was cold, was hungry, transitioned between sleep cycles right as I was making some sort of noise like watching TV or talking on the phone.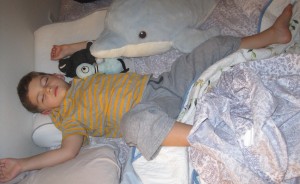 Whatever the reason, I've been called on to nighttime parent much more frequently than I have in months (since right after my husband and I separated), and before that since he still nursed at night.
Nighttime parenting is one of those areas that can become controversial parent fodder very quickly. Some people can't imagine having their baby in a crib while others would never consider having her sleep in the same bed. Many fall somewhere in the middle.

I didn't know what kind of parent I was going to be, if I'd be grumpy in the night, if I'd have a kid who woke up a lot. But I knew my own relationship to sleep. I'd suffered from insomnia since I was fourteen, alternately not being able to fall asleep or falling asleep and then waking in the middle of the night and then be unable to re-enter sleep. It wasn't a restful place for me. Whatever we did, wherever our son slept, I didn't want to pass on my legacy.
When I was pregnant, a friend gave us a hand-me-down bassinet to place beside the bed. Another friend passed on his daughter's crib. And then, after five weeks of pre-eclamptic bedrest, I had a C-section. That meant I couldn't lie on my side or get out of the bed easily. I couldn't turn to see or reach my son even when he was right next to me.
That first night in the hospital,  the nurses encouraged me to leave Cavanaugh in the clear plastic bassinet so I could rest. I couldn't rest with him that far away. He'd been in my body for nine (ten) months, so having him out of eyesight felt like the least restful thing I could imagine. I was on high alert.
When he and I lay together in the hospital bed with his little fingers squeezing mine, I still did not sleep, but I lay there falling in love with my son, this little being who looked so familiar. I remembered my friend Dani saying that some of her favorite parenting moments were middle of the night nursing sessions, when the world was quiet and she could sit in the nursery with her son. I totally got it.
So, it turned out that I didn't mind waking in the middle of the night. Cavanaugh kept sleeping in the bed with me, which meant that when he was hungry, he'd just roll over to nurse. He never woke up fully enough to cry. I nursed him and fell back to sleep.
These middle of the night wakings recently have actually evoked gratitude in me. Last week Cavanaugh woke up in the middle of the night and asked me to turn the closet light on. Usually, he's back to sleep before I'm back from the closet. But that night he said, "I had a bad dream" so I gave him a hug and he lay back on his pillow. I was half asleep when his little voice said, "I'm 'till 'cared" and he pressed his back to my belly and hugged his "aminals."
I was flooded with gratitude: for that sweet little boy with his warm little body, that he feels safe enough to interrupt my sleep and share his feelings, that if he needs more than he's getting, he can ask for it.
Tonight he said he didn't like dreams because they were scary. Some nights he says he's afraid of the dark. I put my hand on his chest and say, "You are safe." I assure him that if he wakes up and I'm not in the room, he can call for me. Most of the time, he sleeps a solid eleven hours without a peep. But on those nights when he is scared, has to pee or asks for cereal, I find myself surprisingly excited because we get that quiet middle of the night time together that went away when he stopped nursing. I get the opportunity to show up, to teach him that sleep is a restful and safe place, and that waking sometimes is okay too.
How do you feel about nighttime parenting? What's your own relationship to sleep like? What are you trying to teach your kid(s) about sleep?