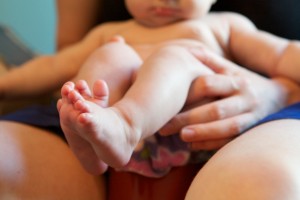 Today, I tried an experiment. Inspired by my application for a mentor position with the international organization Diaper Free Baby, I embarked upon a diaper free challenge for the day with my 4.5 month old baby.
I've been avoiding doing much diaper free time, although I'm a huge believer in the benefits – and practice – of Elimination Communication (EC). We've been pottying little D since she was 5 days old, holding her over the sink at first, then graduating to plastic potties once she reached 11 pounds and our arms began to ache.
Still, while a major reason I gravitated toward EC was its environmental benefits, I've been going through 5+ disposable diapers on an average day. And just because they say Seventh Generation on the package doesn't mean I'm doing right by my descendants by using them (the principle upon which seventh generation was founded).

In fact, the primary benefit of EC we've experienced to date is the lack of poopy diapers, with their associated clean ups, requiring multiple wipes and a guaranteed trashed diaper.  As is apparently common with ECed babies, poopy diapers were one of our first casualties, mostly exiting the picture within a couple weeks of beginning EC.
So today I embarked on what felt like a radical experiment. With only one appointment on today's calendar, I figured I'd camp out in our family room with our trusty top-hat shaped potty and its fleece cozy from the EC store, some waterproof mattress pads, various clothes and cloth prefolds to clean up the mess, and get down to business.
Let's skip to the results. For the seven-hour period from 10am to 5pm, we had one miss (accident in EC terms). I actually learned more from it than from most of the catches.
I learned that my daughter gets a bit agitated before she has to pee, flailing her legs a bit or getting jumpy as she stands, supported by my arms. She doesn't summon up and release whatever pee is available in any given pottytunity (a phrase which, I believe, was coined by Christine Gross-Loh, author of Diaper Free Baby), rather choosing to release in bigger segments. And she never actually peed in her sleep, despite her three naps, one of which I summoned up my courage to execute in a ring sling with several prefolds stuffed under her seat, and two on my lap with a prefold tucked under her rear.
Most importantly, because I was tuned in, I had greater access to my intuition. While she was sleeping, I experienced my second "phantom pee," a common occurrence among ECing caretakers in which you get a warm sensation on your lap as if you've been peed on – but you haven't.  Needless to say, I had my potty at the ready and wasn't surprised when she woke up a minute afterwards, looking to empty her bladder.
At the end of the day, I feel a bit more confident as a mom. I feel like I got to know my daughter better, that I'll have more of a sense of when she needs to go and when she's interested in other developmental pursuits. I feel comfortable knowing that her pee schedule is a bit more predictable than I'd previously assumed. And I'm not as nervous to plan another diaper free day. It won't be this week, but maybe not so far off in the future. And I'm actually looking forward to it.
Any other ECers out there? I'd love to hear your stories and lessons!