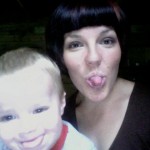 I was browsing– okay, I fess up–I was googling the term "spirited child." I immediately came up with some book advertisements and then with a few pages that explained what a spirited child was. My son is a "textbook" spirited child. The next few pages I came across were things like "taming your spirited child" and how to "cope" with having a spirited child, how to "survive."
I am not big on always using positive words. I am actually somewhat of a self-proclaimed pessimist and don't mind that I look at the glass and see it as half empty. I have had troubles with that before. Wishing I was more "positive" and "upbeat" but the truth is this is the way I am and if I am to embrace the way my son is and teach him how to embrace himself I will need to start by embracing myself. Fairly basic priniciple but easier said that done.
Now I understand how difficult it can be to have a spirited child. Though in some ways every child has their rough points. It is difficult to be a parent period. My son has had me in tears of frustration and exhaustion wondering if I was going to make it until bedtime only to find no relief because he wouldn't sleep. If you have a spirited child, I don't have to explain this to you.  You are already nodding your head and going through your own personal lists.
I in no way think that I need to "tame" my child. He is not going to change. He is going to be spirited for the rest of his life. Thank goodness! He is never going to be boring! He is going to be a creative and passionate person. I would not want to take that away from him. I don't need to survive raising him. We both have to find a way to embrace our life today and all the tomorrows that are coming.
Here are just a few things that I have learned about my spirited child and that have helped me to embrace him and have helped him to organize himself.
My son needs time to organize himself, I need to make that space and time for him. Since he is so disorganized he has had to learn discipline early, he has to discipline his mind and body, I can't do that for him, but because of his age I have to help him identify his times of overload and help create the space he needs to organize himself.
It works best if I let him know everything that we will be doing and where everyone is. This is no small feat sometimes considering we live in a community and there are 13 people here. He doesn't feel "right" when he doesn't know or understand what is going on, it creates confusion.
My son can be loud and mean on occasion. This has to do with being a toddler but also has to do with him being spirited because he does not easily identify that he has hurt someone. This is not okay because no one wants to be around a child that is inconsiderate. I don't want to be around a child that is inconsiderate! Appropriate discipline should be decided on before something happens because it is easy to become angry or frustrated with a spirited child. Discipline needs to happen immediately as a spirited child does not have a great attention span.
A spirited child definitely changes a household (all children do) but they do not need to rule the household. Adjusting schedules so that they get a good amount of sleep and are not too distracted to eat is important but it is also important to be able to flex a schedule a bit without having your child freak out and ruin your time. Planning favorite stops, or for us, favorite snacks or activities along the way works great, something along the lines of "We are going to the coffee shop. They have toys there. Won't that be fun?" We limit our time there so that we don't push him too far and then suggest that we head to Target and while we are there we will get a chocolate milk. We do not bend to demands but calmly repeat exactly what we said we would do before, "No book today honey. I told you we were getting a chocolate milk remember? We're going to do that now."
None of this guarantees that we won't be pulling our hair out at the end of the night but they are a few things that I have found that work for us. I also have found that it is very important that I get a little "me" time, especially if we have had a rough week. It doesn't have to be much but it is extremely necessary.
In conclusion, why is it important that we discuss our spirited children? Because we want to do more than love our little ones, we want to like them and want them to become likeable people.
Any other spirited children out there? What do you all do to handle difficult situations? How about everyday life?